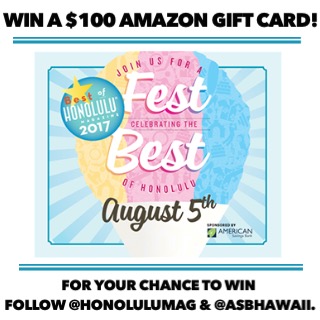 We're excited to be this year's presenting sponsor of the Honolulu Magazine Best of Honolulu Festival! To kick off the fun, we're giving you a chance to win a $100 amazon.com gift card. To win, follow these steps:
Follow @asbhawaii and @honolulumag
Like this post
Comment on this post and tag a friend to spread the word
The winner will be announced on Wednesday, August 9. Note: This giveaway is not affiliated with Instagram in any way. To win, you must be 18 years or older and a Hawaii resident.
American Savings Bank
Best of Honolulu Festival
Instagram – $100 amazon.com Gift Card Giveaway
Official Rules
No purchase, account or payment, or advance of money or credit necessary to participate. Participation in a product or service will not improve one's chance of winning.
You must be 18 years or older to participate and be a Hawaii resident. Proof of age will be required before prize is awarded. The Best of Honolulu Festival, Instagram - $100 amazon.com Gift Card Drawing ("drawing") starts at 10:00 a.m. on Wednesday, August 2, 2017 and ends at 11:59 p.m. on Sunday, August 6, 2017 ("Entry Period"). Entries via Instagram must be submitted during the Entry Period to qualify. Entrants must 1) follow @asbhawaii and @honolulumag on Instagram, 2) like the contest post, and 3) comment on the post and tag a friend to spread the word.
There is a limit of one entry per person. Entries must be received via Instagram by 11:59 p.m. on Sunday, August 6, 2017 to be valid. Incomplete, incoherent or illegible information received on entries will result in an invalid entry. ASB shall be the sole judge of the validity of any entry. Entries become the property of ASB and will not be returned.
Prize: Win one $100 amazon.com Gift Card, which is not redeemable for cash. No prize substitutions. Prizes are non-transferable. All taxes, including all federal, state, local and any other applicable taxes (including income and general excise tax), will be the responsibility of the winner. ASB will issue an IRS 1099-MISC form to the winner if the total retail value of the prizes received for the calendar year exceeds $600.00. Amazon.com is not a sponsor or co-sponsor of this drawing.
Winner Selection: ASB will determine the winner by random selection on August 9, 2017 at 9:00 a.m. The winner will be contacted via Instagram direct message.
To obtain the name of the winner, send a self-addressed stamped envelope to American Savings Bank, Attn: Marketing – Instagram Best of Honolulu amazon.com giveaway, P.O. Box 2300 Honolulu, HI 96804-2300.
Alternate Winner: If the winner does not respond 5 business days after being contacted, an alternate winner will be selected and offered the prize. If the selected winner is deemed ineligible, is not able to provide the required documentation as specified in the rules or does not claim the prize upon being announced, an alternate winner will be selected. An alternate winner will continue to be selected until the prize is awarded.
Prize Fulfillment: As a condition of receiving any prize, the winner agrees to be bound by the rules and decisions of the drawing which are final, binding and conclusive on all matters relative to this promotion. Winner must present a valid photo ID, complete and sign the Drawing Prize Winner Statement of Eligibility and Release from Liability form, furnish a U.S. taxpayer identification number, and complete an IRS Form W-9: Request for Taxpayer Identification Number and Certification to claim the prize. ASB will mail the prize to the winner or, the winner can opt to pick up the prize from a branch of their convenience. ASB reserves the right to disqualify entrants who fail to follow these official rules and regulations or who make any misrepresentations relative to the promotion, drawing and claiming of prizes.
Exclusions: Employees of ASB, their immediate family and all household members are not eligible to participate.
Odds of winning depend on the overall number of entries received during the Entry Period. All entries have an equal chance of winning.
Additional Terms: By participating in the drawing, entrants agree to indemnify and hold harmless ASB, and its parent, subsidiaries, affiliates, officers, directors, shareholders, agents, representatives and employees from any liability, injuries, illness, death, losses, damages, claims and actions of any kind resulting from or arising from participation in the drawing or acceptance, possession, use, non-use or inability to use the prize that may be awarded. Drawing is subject to all applicable federal, state, and local laws and regulations. Winner grants ASB the right, without limitation, to contact them by phone, mail or email; announce, use and publish their name, likeness, photograph, voice and biographical information; for any advertising, publicity, promotional or other purpose in any and all media communication as ASB may choose, throughout the world, without limitation and without any additional compensation. Winner waives the opportunity and right to inspect and approve any such advertising, publicity or promotional materials. ASB has neither made, nor is in any manner responsible or liable for any warranty, representation or guarantee, express or implied, including but not limited to, the quality of the prize. ASB is not warranting any of the prizes offered in conjunction with this drawing.