Pay a Friend
Whether you are splitting the bill, chipping in for a group gift, or sharing expenses on that family trip, Pay a Friend* is the fastest way to send money securely to your family and friends. Send money in seconds using their mobile phone number or email address. It's easy to pay a friend without the hassle of writing a check or sending cash.
BONUS OFFER: Get $5 Cash Back
Get $5 cash back when you use Pay a Friend to send money from your checking account. You can use any ASB Visa® debit card linked to your checking account to qualify for the award.
Promotional Period: October 5, 2017 - November 6, 2017.
Send Money in Seconds
Using your friend's mobile phone number or email address you can send money in seconds from your ASB eBanking app.
FAST – It takes 30 seconds when the money is collected with a participating debit card.**
EASY – Send money from your phone, tablet or computer using your ASB debit card. Just log into eBanking and select Pay a Friend under Transactions. If you don't have eBanking, sign up at asbhawaii.com or download the American Savings Bank Hawaii mobile app.
SECURE – All you need is your friend's mobile phone number or email address. The recipient just needs a debit card. Payments are processed and protected in the same manner as PIN-based point of sale debit card transactions.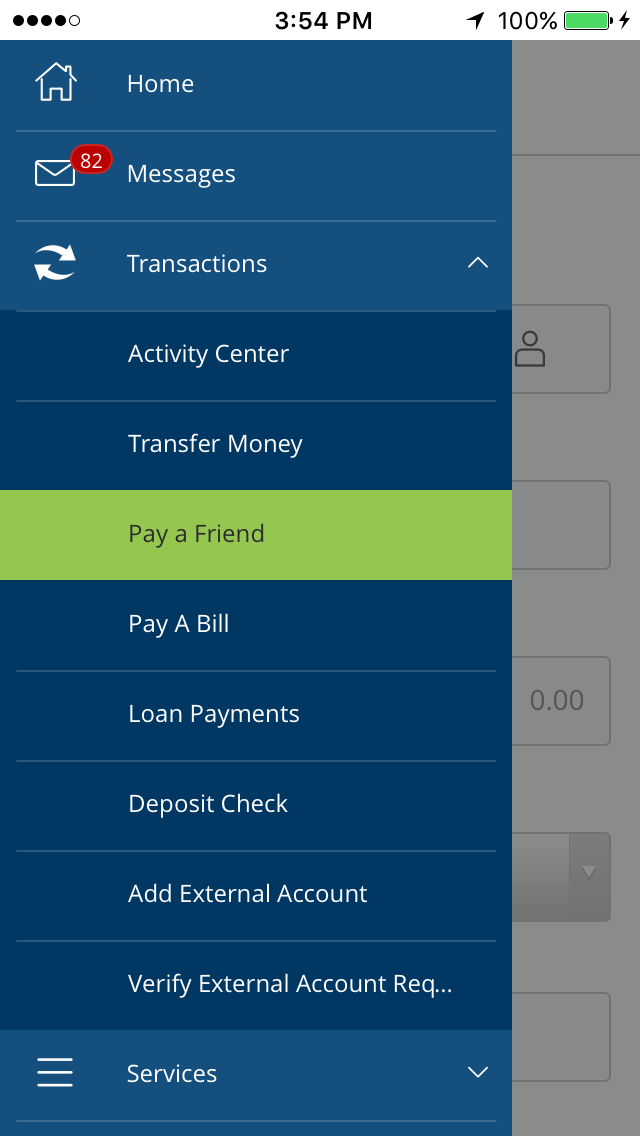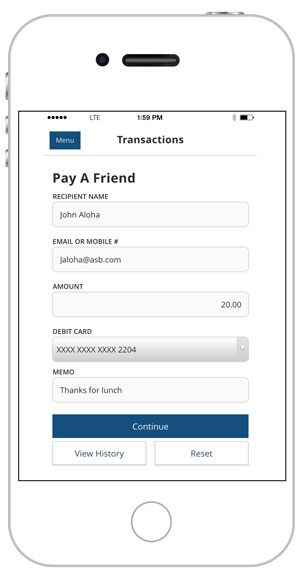 How to Pay a Friend
Select Transactions, then Pay a Friend
Enter the information requested
Review for accuracy
Enter your debit card PIN
Send Money
Tell your friend to look for the money
*Pay a Friend is free for a limited time.
**If the Recipient's bank blocks the transaction which is tied to the Recipient's debit card, the Recipient can enter their checking account number and bank routing number to receive the funds. This alternative method may take 3 to 5 business days. Messaging and data rates may apply.
Promotion Rules: This offer is valid only for the checking account identified above. Qualifying Pay A Friend transaction must be deducted from your checking account from October 5, 2017 – November 6, 2017. Only one (1) cash back award per checking account. Cash back will be deposited into your checking account within three weeks following the end of the promotional period. Checking account must be open at the time of cash back. Cash back award may be subject to tax reporting requirements.