American Savings Bank's Corporate Social Responsibility
The American Savings Bank team calls Hawaii home base. We're a group of Hawaii residents who work, play, and build community with our customers and neighbors. As locals ourselves, we focus on being responsible community partners through our corporate responsibility initiatives that promote the wellbeing of our community as a whole.
In order to best serve our Hawaii Ohana, we've committed to building a corporate social responsibility strategy into our work as well as into our community presence. By sharing our responsibility efforts, we hope to create transparency between ASB and you: our customers and neighbors.
Our Focus on Corporate Social Responsibility
The ASB team has identified the following areas where we are most focused on maintaining and improving our local community. These areas include:
Climate and Environmental Related Efforts

Stability of our Financial System

Adhering to Society's Demand for Ethical Business Practices

Positive Employment Culture

Workforce Stability

Monitoring and Mitigating Cyberattacks
At ASB, we give you the chance to practice socially responsible investing with a company that is focused on bettering the community in which we all work, play, and live. When you open a savings account, finance your dream home, or invest towards retirement with ASB, you can be sure that you're helping us make Hawaii a better place socially, environmentally, and economically.

Strong Governance Framework
Practicing corporate responsibility is more than a few feel-good headlines – it requires making plans and processes that build social responsibility into the fabric of how we work. At ASB, we've developed effective frameworks that allow our leadership team to properly execute our business plan and manage risks. We hold our leaders to a high standard of excellence and encourage them to hold one another accountable while serving as role models for the rest of the team. Starting with our strong leadership team, ASB provides effective, socially conscious corporate governance across our organization.
We intentionally put strong risk management policies in place to ensure we are providing our customers with a trustworthy banking solution. Our risk team periodically analyzes potential risks to our customers, team members, and community. Through our proactive risk management, we can make changes to our practices that reduce threats.
Social Commitments Drive Success
Corporate social responsibility at ASB means every team member commits to personal responsibility. We ask our employees to live the "ASB way" by following our company values and expectations. We strive to be a great bank making people's dreams possible. To fulfill this vision and build a team that meets our high standard, we expect everyone at ASB to embrace excellence, drive innovation, collaborate, continuously develop and learn, and get stuff done – the right way. Through this commitment to doing what's right, we have set ourselves apart from other financial institutions. Our vision is to make banking easy for you by consistently delivering high performance and excellent customer service.
We've discovered that investing in our employees is one of the best ways to deliver an unmatched banking experience for our customers. Making the ASB work environment a positive experience is a big priority for us, because we know it helps to build a team of motived, passionate teammates. We encourage our team to work together and break down silos, collectively achieving more than any one member can achieve alone. We think this value is reflected in the high level of customer service our customers and community experience daily.
Providing ideal working conditions for our team goes hand in hand with our commitment to the larger community of Hawaii. A great work environment can only thrive in a positive local community, which is why we're committed to having a positive impact on our island home. One of our main investments has been to support affordable housing and economic development efforts. Living in one of the most expensive areas of the nation isn't always easy, so we're doing what we can to make it more affordable for local Hawaii residents.
Focused on Financial Health for All
ASB takes social impact investing seriously, which is why we've launched a project to increase financial health for our customers, employees, and community. Access to financial tools and education is important for all members of our community, especially those typically underserved by the financial industry. Our goal is to provide resources for community members that increase their financial literacy and prepare them to make healthy financial decisions.
Our team members regularly hold seminars on financial topics such as buying a home or investing for the future. Additionally, we help local students learn healthy personal finance habits through our Bank for Education program. ASB team members volunteer in local schools to teach students about personal finance and entrepreneurship topics. The goal of the program is to give our community's youth access to information on personal financial responsibility which can be applied throughout their lives.
Prepared to Manage Environmental Risks
As environmental factors continue to be an ever-present risk for Hawaii, ASB has put procedures in place to manage environmental risks. The risk of a natural disaster like a tropical cyclone or volcanic eruptions is an unfortunate part of living in paradise. To prepare for these risks, we've developed plans and policies should our home be threatened by environmental disasters. By planning ahead, we can serve our customers and our community in the event of a natural disaster, power loss, infrastructure damage, or whatever else Mother Nature throws our way.

Environmental Commitment
The environmental choices we make now through our corporate social responsibility can help diminish the effects climate change may have on our island home. As residents and community members, it's our responsibility to care for the land and preserve it for future generations. We're doing our part, starting by incorporating the latest in green designs and environmentally-friendly technologies into our corporate campus and other branches.
Our recently-constructed ASB Campus in downtown Honolulu consolidated 6 existing locations into one, as an effort to greatly reduce our footprint. The Campus features an ideal location close to the homes of many of our team members, making biking, walking, public transportation, and electric vehicles a viable option for their daily commute. In fact, we offer team members an incentive for using alternative modes of transportation. The Campus itself features many environmentally-friendly features such as highly-efficient View Dynamic Glass that automatically tints to reduce internal heat and save on energy, and furniture built from reclaimed wood to reduce production needs.
Striving for Better
We understand that Hawaii residents care about having opportunities for environmental, social, and governance investing in local companies. As a Hawaiian company committed to bettering our community, the main component of our corporate social responsibility code is to always do what's right. In order to live by this value, we're always working on ways in which we can increase economic stability, reduce environmental strains, and promote social efforts for our teammates, customers, and community. Most of all, it's the expectations of our customers, neighbors, and community that help us continuously strive to be better.
The CHANGE Initiative
ASB is proud be a part of the CHANGE initiative, a movement established by the Hawaii Community Foundation. Based on statewide data mapped out in a CHANGE framework, the initiative seeks to bring together people and organizations to collectively change the way we solve Hawaii's challenges.
CHANGE zeroes in on the following six essential areas: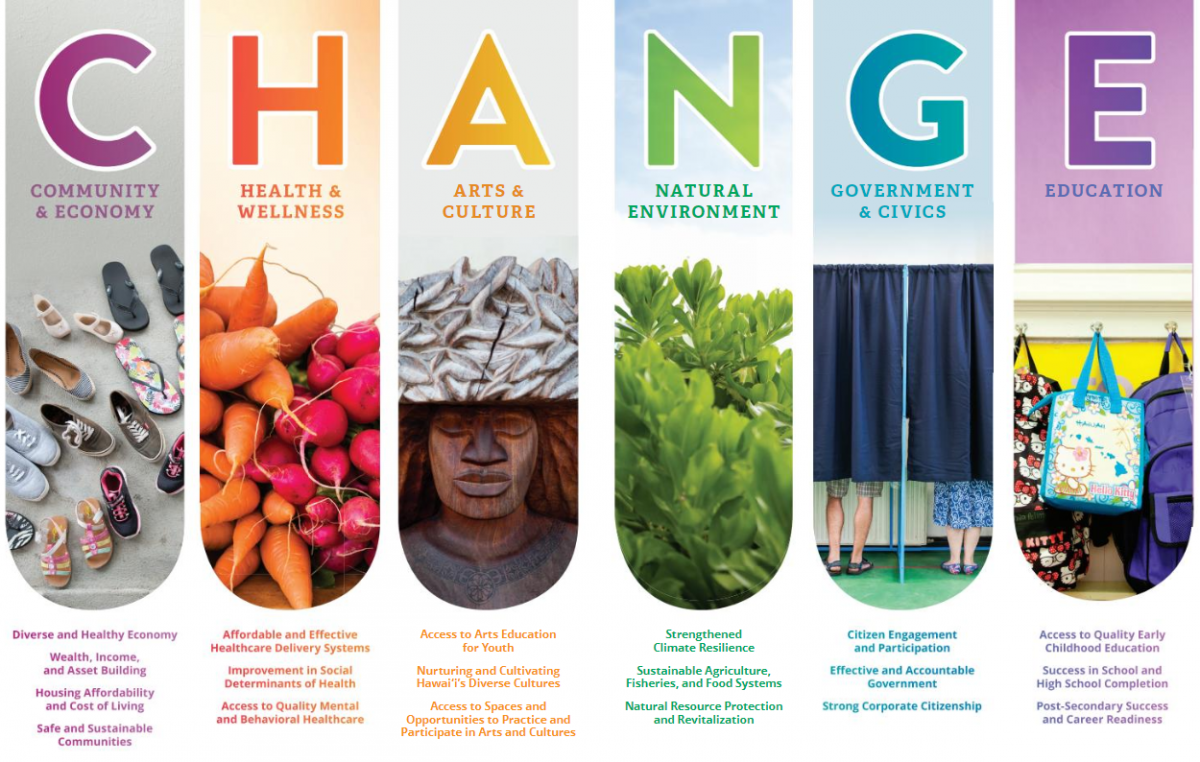 Source: Hawaii Community Foundation, CHANGE Brochure
Download ASB Corporate Social Responsibility Report

ADDRESS
Resources
Social Responsibility