Practicing corporate responsibility is more than feel-good headlines – it requires meaningful planning that intertwine social responsibility into the fabric of how we work. At ASB, we've developed effective frameworks that allow our leadership team to properly execute our business plan and manage risks. We hold our leaders to a high standard of excellence and encourage them to hold one another accountable, while serving as role models for teammates. Starting with our strong leadership team, ASB provides effective, socially conscious corporate governance across our organization.

Strong risk management policies are in place to ensure we are providing customers with a trustworthy banking solution. Our risk team periodically analyzes potential risks to our customers, teammates and community. Through proactive risk management, we are always on top of threats to our system.
Corporate social responsibility means every teammate is personally committed to ASB's vision, goals and expectations. Teammates further our mission of being a great bank making people's dreams possible by embracing excellence, driving innovation, collaborating, continuously developing and learning and getting stuff done – the right way. Our vision is to make banking easy for our customers by consistently delivering high performance and an excellent customer experience.

Our workplace is diverse and inclusive. It's one of the many reasons we're able to anticipate and serve the needs of our customers and community. As of January 2022, 40 percent of the ASB Board and Management Committee is female.

Investing in our teammates is one of the best ways to deliver an unmatched banking experience for our customers. We believe that by taking care of our teammates, they will in-turn take care of our customers. We encourage teammates to collaborate and break down silos, collectively achieving more than any one teammate can achieve alone. We think this value is reflected in the high level of customer service our customers and community experience daily.

Creating a great place to work is an extension of our commitment to Hawaii. As one of the most expensive states in the nation to live in, we believe it is more important than ever to encourage, support and invest in affordable housing in Hawaii. As of August 2021, ASB is invested in over 20 low-income housing projects in Hawaii.
ASB is committed to helping customers and the community improve their financial wellness and reach their financial milestones. Free access to financial tools and education is important for all members of our community, especially those typically underserved by the financial industry.

Our free Financial Checkup provides users with real-time assessments of their financial wellness. The tool is a launching point for financial literacy that provides recommendations for customers to reach their next financial goal. Customers are using this tool to receive insights on topics like moving out for the first time, buying a home, adding a family member, financing education and planning for retirement. The Financial Checkup tool also offers budgeting tools, financial calculators and insightful articles on the topics people want to know about when financing their futures in Hawaii.

In 2021, we launched a free compressive online resource center called ASB Financial Education, a resource designed to give intensive training in an easily digestible format for better financial health. Users participate in five-minute training sessions covering debt management, credit scores, and other important personal financial topics. More than 9,300 users have already engaged with the program in just a few short months since its launch!

In 2019, the Office of the Comptroller of the Currency recognized ASB's "excellent responsiveness" to the credit needs of Hawaii residents. ASB's service delivery systems were highlighted as being "reasonably accessible" to people of different income levels.

Our teammates regularly hold seminars on financial topics such as buying a home or investing for the future. Additionally, we support financial education and healthy personal finance habits for local students through our Bank for Education program. ASB teammates volunteer at local schools to teach students about personal finance and entrepreneurship. Since the Bank for Education program began in 2010, ASB has donated more than $1 million to local schools.
We recognize that environmental factors continue to be an ever-present risk for Hawaii. Our credit teams periodically evaluate the risks to coastal properties due to sea-level rise associated with climate change. Additionally, we are prepared to respond to the challenges posed by natural weather events, such as hurricanes, floods and volcanic eruptions. By planning ahead, we can serve our customers and community in the event of a natural disaster, power loss, infrastructure damage, or whatever else Mother Nature throws our way.
The environmental choices we make now can help diminish the effects climate change may have on our island home. As residents and community members, it's our responsibility to care for our land and preserve it for future generations. We're doing our part by incorporating the latest in green designs and environmentally-friendly technologies into our Campus and other branches.

In an effort to reduce our carbon footprint, our recently constructed ASB Campus consolidated five locations into one, as an effort to greatly reduce our footprint. The Campus features an ideal location close to the homes of many of our teammates, making biking, walking, public transportation and electric vehicles a viable option for their daily commute. Teammates are offered an incentive for using alternative modes of transportation. The Campus itself features many environmentally-friendly features including highly-efficient View Dynamic Glass that automatically tints to reduce internal heat and save on energy, and furniture built from reclaimed wood to reduce resource consumption.
With Hawaii roots from 1925, we understand that families and businesses here in the islands expect companies to do what's pono – what's right. This value is baked into who we are. We expect all of our teammates to speak up, drive innovation and get stuff done the right way. As a collective, we are always working on ways in which we can increase economic stability, reduce environmental strains and promote social efforts for our teammates, customers and community.
ASB is proud to be a part of the CHANGE initiative, a movement established by the Hawaii Community Foundation. Based on statewide data mapped out in a CHANGE framework, the initiative seeks to bring together people and organizations to collectively change the way we solve Hawaii's challenges.

CHANGE zeroes in on the following six essential areas: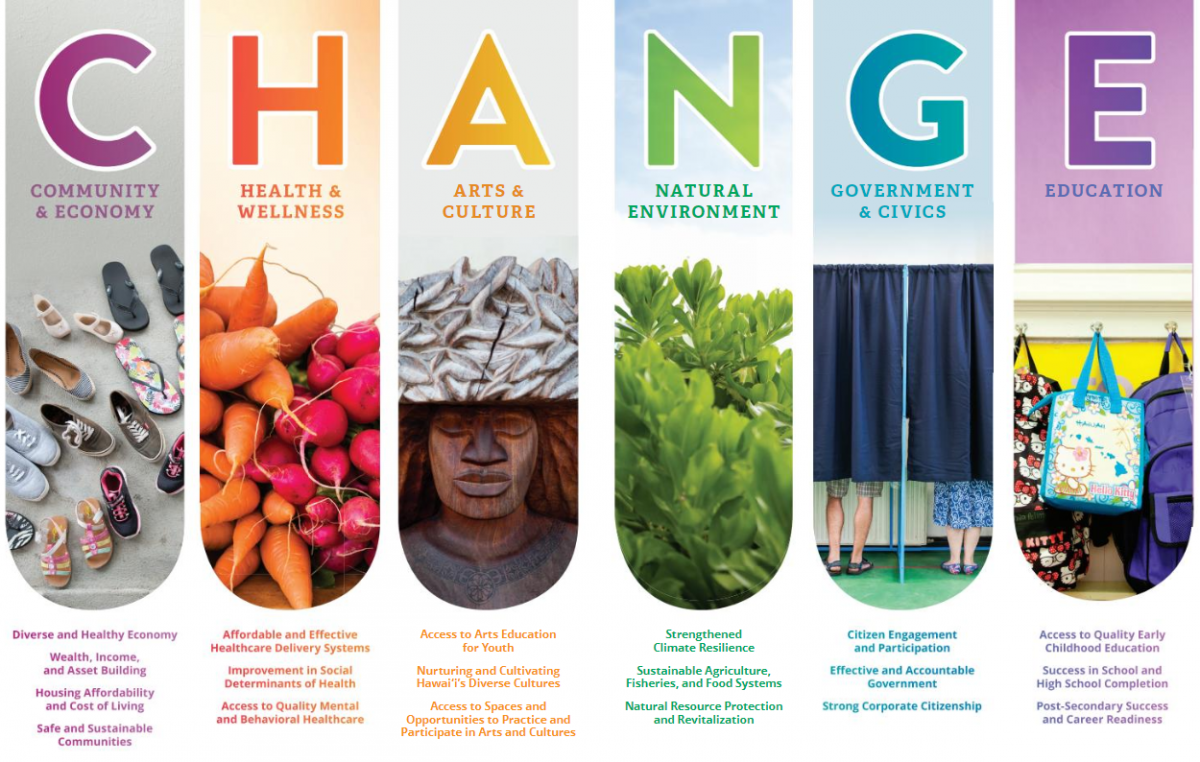 Source: Hawaii Community Foundation, CHANGE Brochure