< Back Helpful Articles
2017 Bank for Education KeikiCo Business Plan Competition
ASB December 20, 2017 | 5 min read

N/A



American Savings Bank Announces Winners of
2017 Bank for Education KeikiCo Business Plan Competition
More than 200 entries received; $190,000 donated to 17 local schools
HONOLULU, December 20, 2017 – After reviewing more than 200 entries from 30 schools across the state of Hawaii, American Savings Bank (ASB) today announced the winners of its 2017 Bank for Education KeikiCo Business Plan Competition. A total of $190,000 is being donated to 17 local schools for demonstrating excellence in business planning and creativity.
"At ASB, we strive to support Hawaii's innovation sector and the role it plays as a catalyst for economic development," said Rich Wacker, president and CEO of ASB. "We believe it's never too early to start fostering entrepreneurship. Our KeikiCo competition allows us to do just that by encouraging even the youngest entrepreneurs in our community."
The Bank for Education KeikiCo Business Plan Competition started in 2015 and runs every other year. The contest invites students in teams of two to four to share their best ideas for a chance to win cash prizes for their school, ranging from $2,500 to $25,000. The program makes financial literacy and entrepreneurship fun and interactive for youth through a weekly video series, online resources, and mentorship.
Throughout the competition, students learn the fundamentals of creating their own business, including conceptualizing a unique business idea, figuring out how to make an idea profitable and sustainable, and learning how to pitch to investors. The business plans and video pitches are reviewed by a panel of judges, including ASB executives and prominent leaders from Hawaii's Startup Paradise ecosystem and media industry.
Winning plans in this year's competition ranged from hilariously practical, such as Kalakaua Middle School's "Two Doo Dudes," a clean-up service for dog poop, to addressing a critical need, such as Kaiser High School's "Classmate," an online tutoring service for high school students.
"The skills and knowledge our students gained from this program are in perfect alignment with our mission to develop successful citizens who contribute to a global society," said Principal Troy Tamura of Mililani Waena Elementary School, this year's 1st Place winner and People's Choice winner in the Elementary School Division. "We are so proud of our students for placing in this year's KeikiCo competition, and we can't wait to see them put their business acumen to work in their future endeavors."
In addition to 1st and 2nd place winners in each of the three divisions (elementary, middle and high school), ASB awarded a People's Choice award for each division, selected by public voting on video entries via Facebook in late November. The bank also awarded a County Participation prize to the school in each county that had the highest participation rate.
Since the Bank for Education program began in 2010, ASB has donated more than $1 million to local schools. During non-competition years, winning schools receive additional benefits from ASB, including opportunities to apply for additional grants, volunteer service projects performed by ASB teammates, priority consideration for scholarships and internships and more.
2017 KeikiCo Winners
Elementary School Division:
1st Place ($25,000): Mililani Waena Elementary School, Map App

2nd Place ($15,000): Kanoelani Elementary School, Cold Mold

People's Choice ($5,000): Mililani Waena Elementary School, EZ Shower
Middle School Division:
1st Place ($25,000): Kalakaua Middle School, Two Doo Dudes

2nd Place ($15,000): Moanalua Elementary School, Fice Fox Lunch Box

People's Choice ($5,000): Pearl Highlands Intermediate School, Bring it Back Boxes
High School Division:
1st Place($25,000): Kaiser High School, Classmate

2nd Place ($15,000): Island School, Paws on Wheels

People's Choice ($5,000): Kauai High School, The Outlet
County Participation Prizes ($10,000 each):
Oahu: St. John Vianney School

Hawaii Island: Kua O Ka La Charter School

Maui: Maui Adventist School

Kauai: Island School
Special Mentions:
Kipapa Elementary School

Maui Waena Intermediate School

Mililani Middle School

Farrington High School

McKinley High School

Wheeler Middle School
Photos: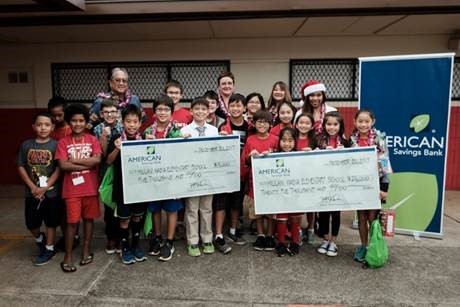 Mililani Waena Elementary School received a total of $30,000 for winning 1st Place, and People's Choice in the Elementary Division.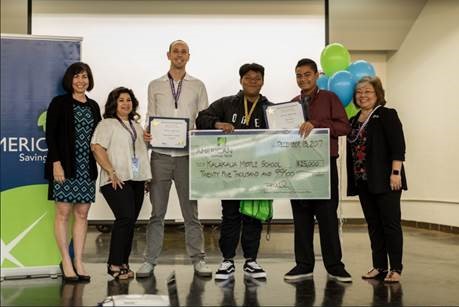 Kalakaua Middle School received $25,000 for winning 1st Place in the Intermediate Division.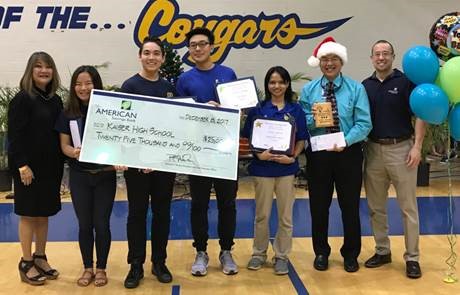 Kaiser High School received $25,000 for winning 1st Place in the High School Division.
About American Savings Bank
American Savings Bank (ASB) has been serving Hawaii's businesses and communities since 1925 and currently provides a full range of financial products and services, including business and consumer banking, home loans, insurance and investments. ASB is one of Hawaii's leading financial institutions, with e-banking services and branch locations throughout the state offering evening, weekend and holiday hours. ASB provides Hawai'i's consumers and businesses with more extended weekday and weekend hours than other similarly sized local banks, as well as convenient in-store branches. ASB was the first Hawai'i bank to introduce remote-deposit capture with a mobile banking application.
ASB matches its exceptional customer experience with an employee experience that has garnered local and national awards. ASB has been recognized locally as one of the "Best Places to Work" by Hawaii Business Magazine for eight consecutive years and honored nationally as one of the "Best Banks to Work For" by American Banker Magazine. Fortune Magazine has recognized ASB as one of the 100 Best Workplaces for Women and 50 Best Workplaces for Diversity. For more than 90 years, ASB has been helping build strong communities. Through its Seeds of Service program, ASB teammates have contributed more than 29,000 hours of volunteer service, and ASB has donated millions of dollars to Hawaii's nonprofits and community organizations. For more information, visit www.asbhawaii.com or follow American Savings Bank on Facebook or Instagram.
###