Your digital banking experience
eBanking at American Savings Bank provides you with total access to your accounts and eServices from your desktop, tablet and mobile devices.
For questions about eBanking, please call (808) 627-6900 or toll-free (800) 272-2566.

What do I need to do?
Download ASB Hawaii Mobile App:
The mobile app allows you to do everything available in online banking
Turn on Touch ID for iPhone 5S or higher
Transfer Money
Pay a Friend
Pay Bills
Setup Loan Payments
Deposit checks on your mobile phone

How to Enroll and Login
Step-by-step instructions on how to log in to our new system, plus info on our new secure sign in.
Enrollment for New Customers:
Go to the Internet Banking Enrollment page
Enter your account and personal information
Request a Login ID
Select Continue
Once setup is complete, you will be directed to login for the first time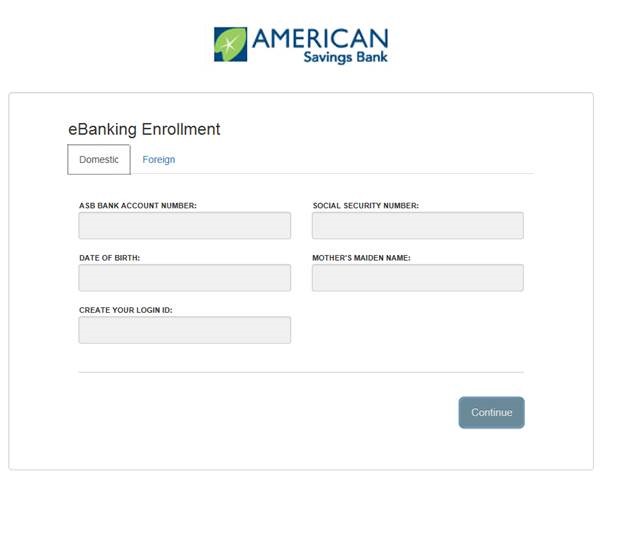 First Time Login:
Go to www.asbhawaii.com
Enter your current Login ID and Password in the login field
You will be asked to update your password
For your added security, you will be required to enter a Secure Access Code:

Select the delivery method of your Secure Access Code (text or phone call)
When you receive your six-digit Secure Access Code, enter it in the access code screen and click Submit. The Secure Access Code is only valid for 30 minutes.
Don't forget to register your device. This will prevent you from having to request a new Secure Access Code when you use this device in the future.
If we do not have your current contact infomation you will not be able to access the eBanking system.

Need help?
Please contact us at (808) 627-6900 or toll-free at (800) 272-2566 or (800) 339-0368.
Update your browser – make sure you're using the most updated versions of your web browser and operating system.
Microsoft Internet Explorer 8 or earlier and Microsoft Windows XP are not supported
Your Apple phone or table must be using Apple iOS 8 or higher. To update your Apple phone or table's operating system go to Settings > General > Software Update
Your Android phone or tablet must be using the Android operating system of 4.0.47 or higher. To check your OS go to Settings > About Phone > System Update
Android Customers - Experiencing Issues with installing the mobile app (Unknown Error)
Your Android phone or tablet must be using the Android operating system of 4.0.47 or higher. To check your OS go to Settings > About Phone > System Update.
Uninstall the ASB Mobile App
Restart your phone or tablet
Download the new ASB Mobile app from the Google Play Store
Click on the link below and download the new browser of your choice.
Enroll in Text Banking: eBanking allows you to enrollment of text banking.
Once you are logged into eBanking, select "Settings", Text Enrollment
Follow the onscreen directions
Please add the new short code 226563 in your phone contacts to use text banking.
Quicken Users please follow our instructions on the Quicken Questions page.
Security Reminder: American Savings Bank will never send unsolicited emails asking you to provide, update, or verify personal or confidential information via email. If you receive an email inquiry allegedly from American Savings Bank, please report the incident to a customer service representative as quickly as possible. To mitigate the risk of online fraud and identity theft, your first and best protection is awareness.
Personal Banking
Business Banking
Secure Banking
Mobile Banking