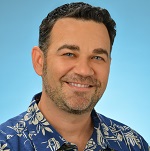 Jason Lazzerini
Senior Vice President / Director of Home Loans
American Savings Bank
NMLS #234533
Equal Housing Lender
Direct: (808) 544-1570
Mobile: (808) 722-6521
jlazzerini@asbhawaii.com
Jason Lazzerini is the Senior Vice President and Director of Home Loans at American Savings Bank. With nearly 20 years of experience in the financial industry, Jason has worked in diverse roles across the financial services sector and for a number of different financial institutions. Throughout his tenure, he has been asked to lead a number of builds and transformations, demonstrating strong strategic leadership skills as well as a commitment to the customer.
A Pacific Century Fellow, Jason serves as Treasurer and Executive Committee member for Aloha Medical Mission and was also Vice President of the Spalding Branch Board for the Boys and Girls Club of Hawaiʻi from 2012-2016. Graduating with honors from the Pacific Coast Banking School at the University of Washington's Foster School of Business in 2015, Jason served as an Executive Student Advisor and joined the faculty in 2018.
A lifelong and passionate jazz musician, Jason also graduated from Northern Illinois University with a Bachelor of Arts in music.