The land upon which the ASB Campus sits – and its surrounding areas – was once filled with lush loʻi kalo (taro patches), nourished by the Nuʻuanu Stream, which flows alongside. Just as the loʻi nurtures the kalo within, ASB's Loʻi Gallery provides a space for artists of Hawaiʻi to share their talents with the community.

Twenty percent of sales from this gallery will benefit one of ASB's nonprofit Kahiau partners, which include Child & Family Service, Kapi'olani Health Foundation, Kupu, Partners in Development Foundation and United Way.
View Lo'i Gallery Artist
The Lo'i Gallery currently features the following artists. For purchases and inquiries, please contact the artist directly.
Want to showcase your art in our Lo'i Gallery? Click here to apply.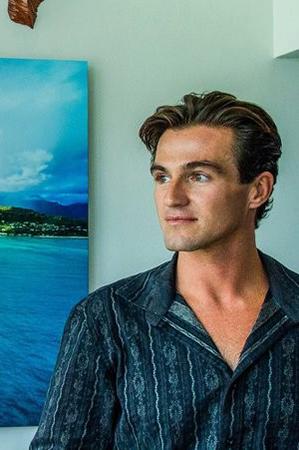 Cameron Brooks
cameronbrooksart@gmail.com
Cameron was born and raised on Oahu and is deeply passionate about fine art photography. Since 2013, he has taken more than 300 helicopter flights where he captured many of the island's famous landscapes from high altitudes. In addition to aerial photography, Cameron is always looking for opportunities to capture natural occurrences and has photographed storms, nightscapes, sunrises, water reflections, animals and more.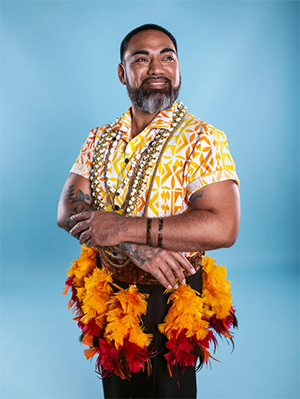 Saumolia Puapuaga
info@artbysaumolia.com
Saumolia's artwork is a personal reflection of himself as a first generation Samoan-American. The primary foundation of his work is inspired by the patterns and colors found in nature and reflects the story of his triumphs, heartbreaks and love.

Saumolia was born in San Diego, California, but spent his formative years growing up in Kalihi on Oahu. In 2006, he began honing his craft at Kapiolani Community College. He then transferred to the University of Hawaii at Manoa and graduated with a bachelor's degree in fine arts in 2012. Today, you can find him painting along the shores of Hauula, where he currently resides as a full-time artist.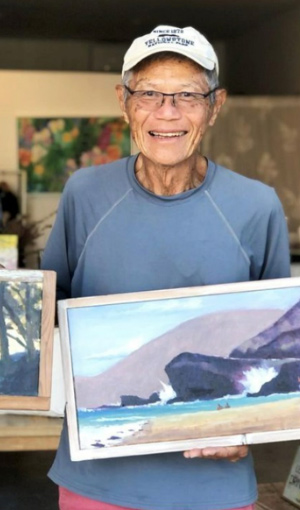 Spencer Chang
spencerchang@yahoo.com
Spencer is passionate about creating oil paintings of windward landscapes, which he frames using reclaimed wood.

A retired architect, U.S. Air Force flight instructor, Vietnam veteran, and cancer survivor, Spencer is an avid outdoorsman and spends his time drawing and painting. His personal interests include golf, kayaking, biking, playing the ukulele and piano and painting with friends.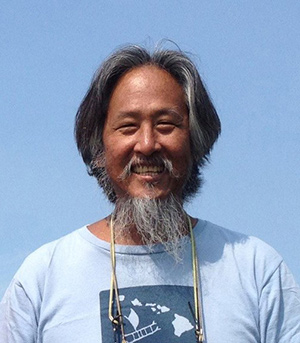 Stephen Yuen
stevey@g70.design
A lifelong resident of Hawaii, Stephen is an architect and urban designer by trade who is passionate about art and printmaking. For over 30 years, he has been involved in a variety of planning and architectural projects in Hawaii.

After years of drawing by hand in architecture and design, Stephen embraced a different creative process using an electronic medium creating works of art entirely as a computer drawing.
How it works:
Interested Hawai'i artists may apply to have their artwork featured at the ASB Loʻi Gallery. Selected artwork will be displayed for four months. Selected artists will be paid $500 at the end of the showing and must agree to donate 20% of any proceeds from the sale of their artwork to one of our nonprofit Kahiau partners, which include Child & Family Service, Kapi'olani Health Foundation, Kupu, Partners in Development Foundation and United Way. Additional terms will be provided to selected artists.
ASB will host a gallery opening and artists will be asked to invite their contacts and help promote the event on social media and through their various networks.
Criteria:
Lo'i Gallery artwork must be:
Original work, owned and created by the artist
Available for sale
Mountable on drywall plaster, without plywood backing
Approved by American Savings Bank
Lo'i Gallery artwork must not be:
Offensive or contain nudity, violence or explicit language
Discriminatory against race, color, national origin, ancestry, religion, age, gender, sexual orientation or disability
Commissioned to a third party
If you are interested in being featured, please click the "Apply Now" button below
and email us with the following information:
First and Last Name
Email
Phone Number
Artwork Summary (Please include titles and brief descriptions of your artwork)
Pictures of Artwork (Please include as attachments with your application)