< Back Helpful Articles
American Savings Bank Supports Manana Elementary School with Their Annual Craft Fair
ASB June 06, 2012 | 5 min read

News Releases



Effort is part of the bank's Seeds of Service employee volunteer program
PEARL CITY – Employees from the American Savings Bank (American) Customer Banking Center contributed in a Seeds of Service program, helping with the Manana Elementary 4th Annual Craft Fair. The event took place on April 21, 2012 where the community and vendors participated to raise money for students and teachers.
Several American employees are active with the event organizer, the Parent Teacher Organization (PTO). It helps to provide extra funds for special projects and supports extracurricular activities, such as paying for field trip transportation and groups like the chorus and Junior Police Officers. Many of the Customer Banking Center coworkers are alumni of the school, have children who are alumni or currently have children attending. They helped the many vendors unload their cars and set up their booth spaces for the event.
Seeds of Service is a bank-wide volunteer program that encourages employees to partner with schools and non-profit organizations to donate their time and effort toward charitable projects.
Serving Hawaii's businesses and communities for more than 85 years, American Savings Bank provides a full range of financial products and services, including commercial and consumer banking, insurance, and investments. For more information, visit asbhawaii.com.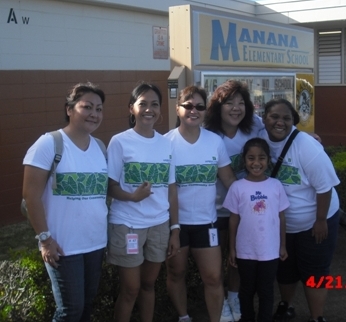 ###