< Back Helpful Articles
ASB Teammates "Feel the Force," Donating Nearly $330,000 Donation to Local Nonprofits
ASB July 09, 2020 | 5 min read

N/A



HONOLULU, July 9 – American Savings Bank (ASB) today announced the results of its 2020 Kahiau Giving Campaign – an annual workplace giving program that benefits local community organizations. The Star Wars-themed fundraiser, which took place earlier this year, generated a total of $179,316 in donations from ASB teammates and was matched with an additional $150,000 from ASB.
In total, the bank donated $329,316 to nine nonprofit organizations working to strengthen Hawaii's communities. The campaign also broke an all-time ASB record, with an impressive 97 percent participation rate and 1,077 teammates donating.
"The COVID-19 pandemic has presented financial hardships and challenges for so many across the state of Hawaii," said Rich Wacker, president and CEO of ASB. "Thanks to the generosity of our teammates, we were able to provide immediate, unrestricted funding to our nonprofit partners, who deliver much-needed assistance and support to our community during these difficult times."
The word "Kahiau" in Hawaiian means "to give from the heart without expecting anything in return." The Kahiau funds were donated to Child & Family Service, Kapiolani Health Foundation, Kupu, Partners in Development Foundation and United Way chapters in Hawaii: Aloha United Way, Friendly Isle United Fund, Hawaii Island United Way, Kauai United Way and Maui United Way.
In addition to the financial support from the Kahiau Giving Campaign, ASB has also contributed to COVID-19 relief through:
Personal Protective Equipment: $25,000 to Operation Masks to provide N95 respirator masks to hospitals throughout Hawaii, especially in rural areas. ASB has also joined KoHana Hawaiian Agricole Rum, Hawaii Governor David Ige's office and several other local businesses in manufacturing hundreds of gallons of U.S. Food and Drug Administration-approved hand sanitizer. The sanitizer was distributed to the Institute of Human Services for the homeless, local schools, nonprofit organizations and more.
Community Meals: $18,000 donation to Chef Hui's Give and Go Community Meal program and $25,000 to the Show Aloha Challenge, which serves meals to kupuna statewide. ASB has also served more than 26,600 meals to teammates, first responders, kupuna and community members, totaling more than $360,000 to support 110 local restaurants.
General COVID-19 Relief: $125,000 donation to the Hawaii Foodbank and United Way agencies for COVID-19 aid through the HEI Charitable Foundation and a $5,000 donation to Family Promise of Hawaii to assist families at risk of experiencing homelessness. ASB has also donated $5,000 to Farrington High School's Project Hope to provide toiletries and other items to school families affected by the pandemic. Farrington is an ASB Bank for Education Ohana school.

ASB supports initiatives that promote educational excellence and financial literacy, strengthen families and foster innovation and entrepreneurship through donations, sponsorships, grants, scholarships, internships and volunteerism. ASB supports its Kahiau Community Partners year-round through the bank's Seeds of Service volunteer program and financial literacy workshops. In total, ASB has donated millions of dollars to Hawaii's nonprofits and community organizations, including more than $2.2 million raised through the Kahiau Giving Campaign since 2011.
Photos: To download photos, click here.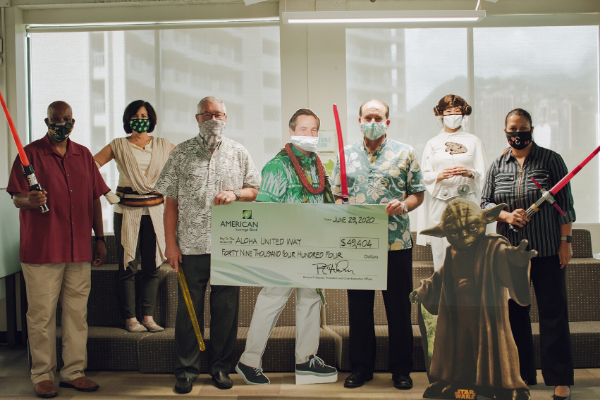 Aloha United Way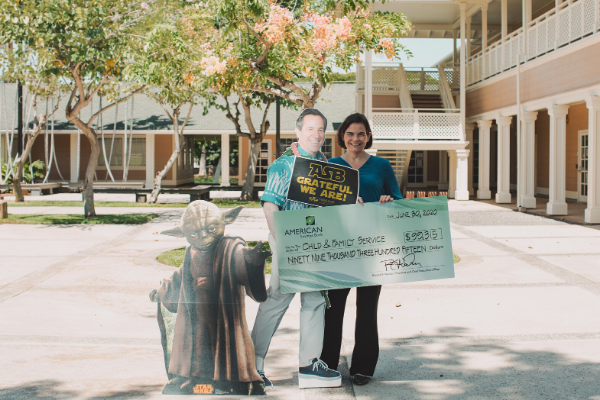 Child & Family Service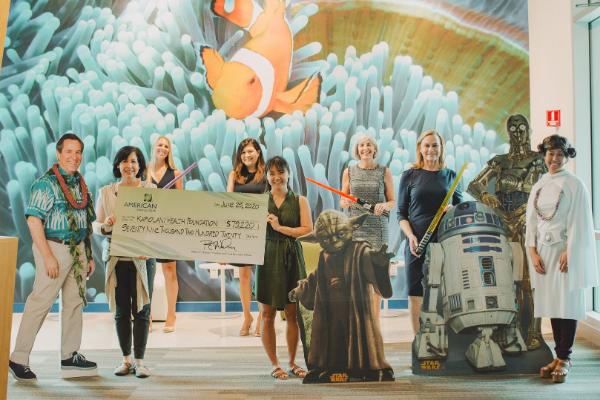 Kapiolani Health Foundation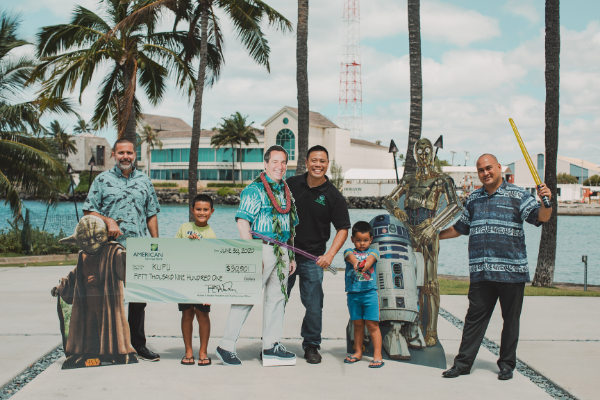 Kupu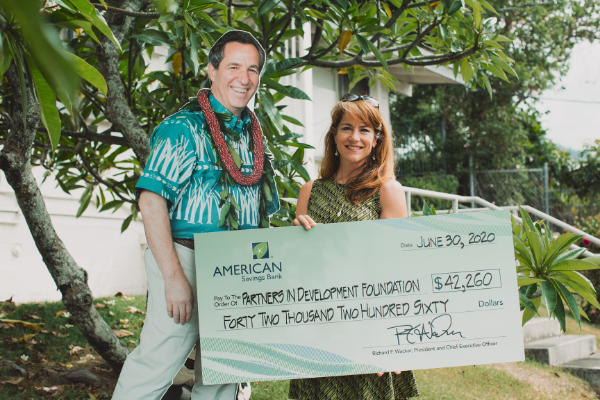 Partners in Development Foundation
About American Savings Bank
American Savings Bank (ASB) has been serving Hawaii's businesses and communities since 1925 and currently provides a full range of financial products and services, including business and consumer banking, home loans, insurance and investments. ASB is one of Hawaii's leading financial institutions, with Online Banking services and branch locations throughout the state offering evening, weekend and holiday hours. ASB provides Hawaii's consumers and businesses with more extended weekday and weekend hours than other similarly sized local banks, as well as convenient in-store branches.
ASB matches its exceptional customer experience with an employee experience that has garnered local and national awards. ASB has been recognized locally as one of the "Best Places to Work" by Hawaii Business Magazine for 11 consecutive years and honored nationally as one of the "Best Banks to Work For" by American Banker Magazine. Fortune Magazine has recognized ASB as one of the 100 Best Workplaces for Women and 50 Best Workplaces for Diversity. For nearly a century, ASB has helped to build strong communities. Through its Seeds of Service program, ASB teammates have contributed more than 63,000 hours of volunteer service, and ASB has donated millions of dollars to Hawaii's nonprofits and community organizations. For more information, visit https://www.asbhawaii.com/ or follow American Savings Bank on Facebook, Instagram and LinkedIn.