< Back Helpful Articles
ASB Donates More Than $368,000 to Support Local Nonprofits Addressing Critical Community Needs
ASB May 22, 2023 | 2 MIN read

News Releases



American Savings Bank (ASB) is proud to announce that its 2023 Kahiau Giving Campaign has raised $368,268, which will enable local organizations to continue providing vital resources and services to the community. Nearly 94 percent of ASB teammates participated in the annual workplace giving program, resulting in the largest Kahiau donation since the program's inception in 2011.

"Our Kahiau partners have shown unwavering dedication to serving the community, providing essential services and bringing hope to those who need it most," said Ann Teranishi, president and CEO at ASB. "We are honored to support their missions and proud of our 1,100 teammates for their ongoing commitment to making a positive impact."
The campaign received $218,268 in teammate donations, with ASB contributing an additional matching donation of $150,000 to further increase the impact.

The theme of this year's Kahiau campaign, "Planting Seeds for a Thriving Community," aligns with ASB's mission to nurture and uplift communities. Symbolizing nourishment, strength and cultural significance, the contributions made through the Kahiau campaign represent the collective effort to create a flourishing and resilient Hawaii, much like the symbolic kalo plant found in ASB's logo.
In Hawaiian, "Kahiau" means "to give from the heart without expecting anything in return." The funds raised were distributed to Child & Family Service, Kapiolani Health Foundation, Kupu Hawaii, Partners in Development Foundation and United Way chapters (Aloha United Way, Friendly Isle United Fund, Hawaii Island United Way, Kauai United Way and Maui United Way).
"Collaborating with like-minded organizations such as American Savings Bank helps us provide valuable resources to our families, community and economy," said Dr. Shawn Kanaiaupuni, president and CEO at Partners in Development Foundation. "Through American Savings Bank's support, we continue to create a lasting impact on the lives of those we serve."
ASB's donations support organizations that focus on improving education and financial wellness, strengthening families, promoting economic vitality by fostering innovation and entrepreneurship, increasing access to and the supply of affordable housing, and supporting the revitalization of Aala Park and the Kalihi-Chinatown neighborhood.
In 2022, ASB donated over $1.4 million to nearly 125 local nonprofit organizations. ASB teammates contributed hands-on impact through over 12,000 Seeds of Service volunteer hours, collaborating with over 180 nonprofit organizations.
"We extend our heartfelt appreciation to American Savings Bank for its invaluable partnership in our mission to enrich the lives of Hawaii's residents," said John Fink, president and CEO at Aloha United Way. "American Savings Bank's generous support through its tremendous Kahiau Giving Campaign enables AUW to drive significant impact in addressing important community needs, from education and financial stability to health and well-being."

ASB has donated more than 112,000 Seeds of Service volunteer hours and millions of dollars to Hawaii's nonprofits and community organizations, including over $2.9 million raised through the Kahiau Giving Campaign since its inception in 2011.
Total ASB Donation: $368,268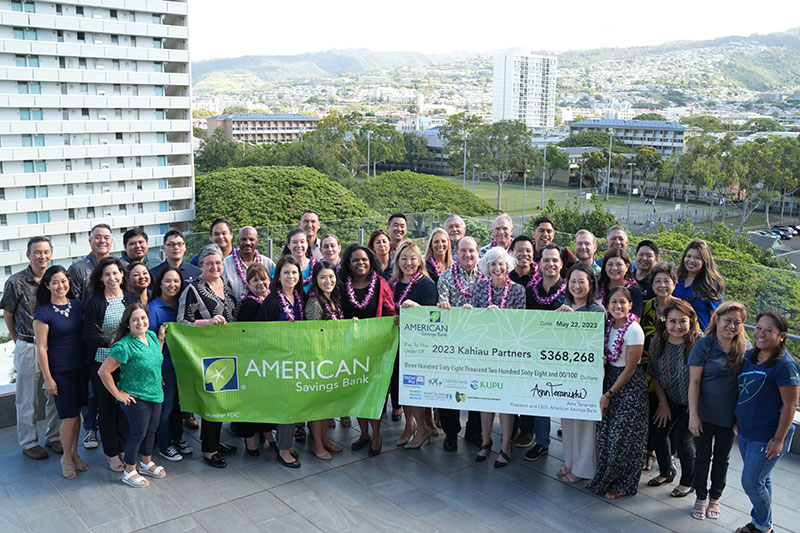 Aloha United Way: $69,940 donation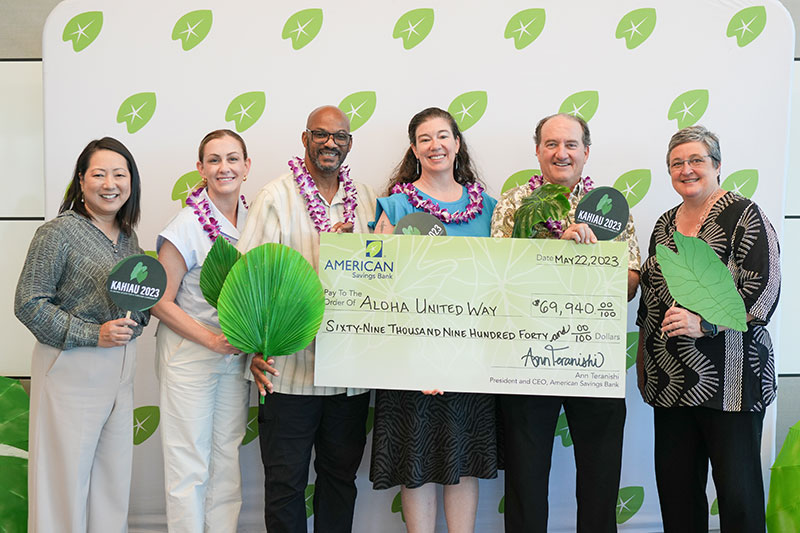 Child & Family Service: $98,858 donation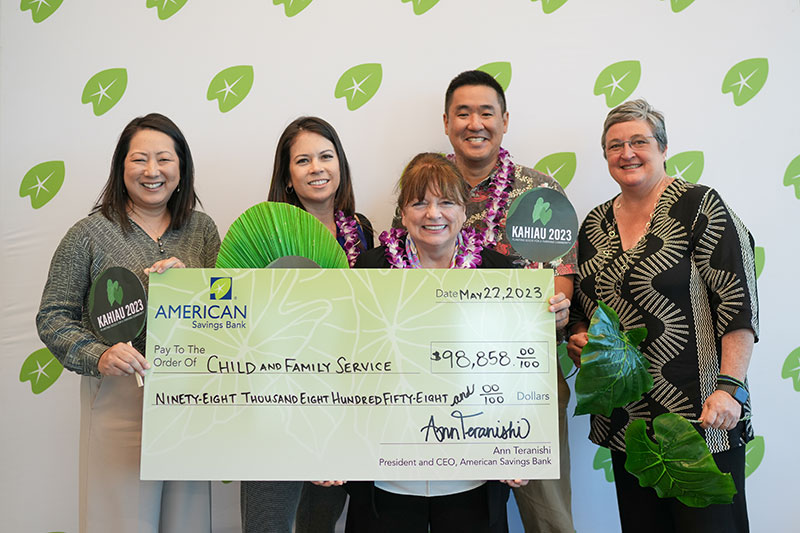 Kapiolani Health Foundation: $92,387 donation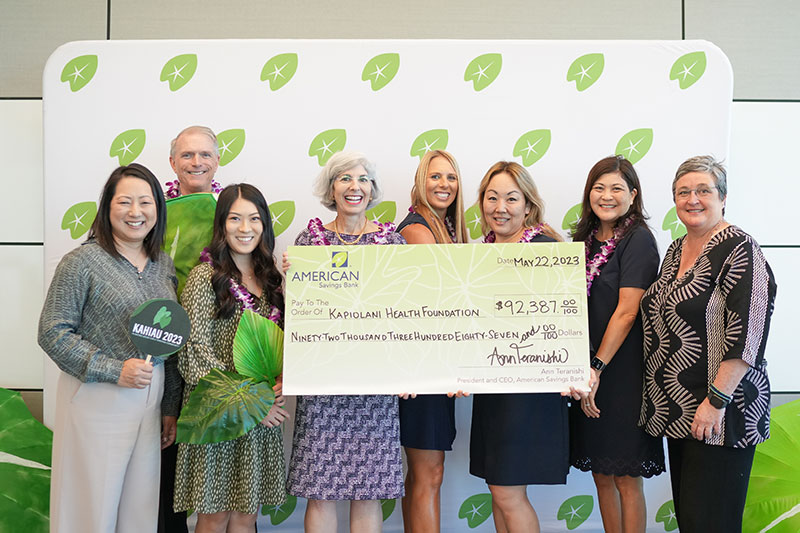 Kupu Hawaii: $57,013 donation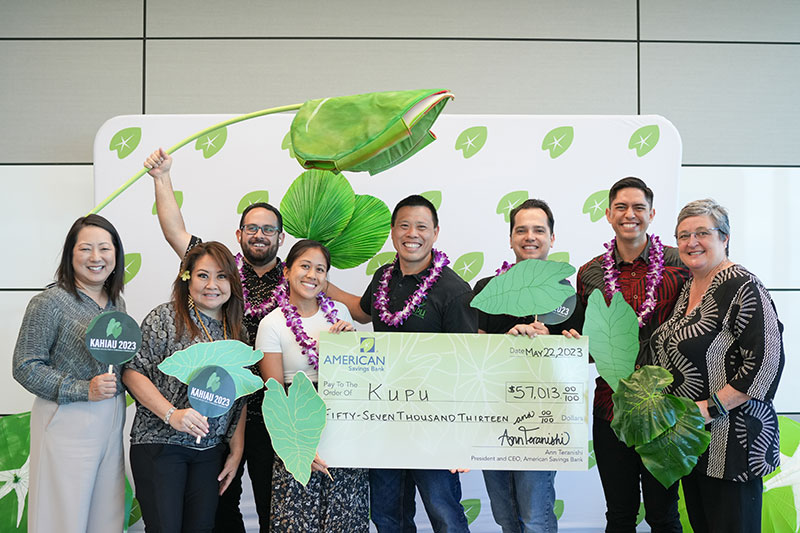 Partners in Development Foundation: $48,182 donation