< Back Helpful Articles
ASB and Fiserv Award $10,000 to Local Business in Molokai
ASB May 24, 2023 | 2 MIN read

News Releases



American Savings Bank (ASB), in collaboration with Fiserv, Inc., is proud to announce the recipient of a $10,000 grant as part of the Fiserv Back2Business program. Molokai Auto Parts, an automotive supply store serving the Molokai community for nearly four years, was selected as the distinguished recipient of this grant for their remarkable business and community contributions, especially during the Covid-19 pandemic.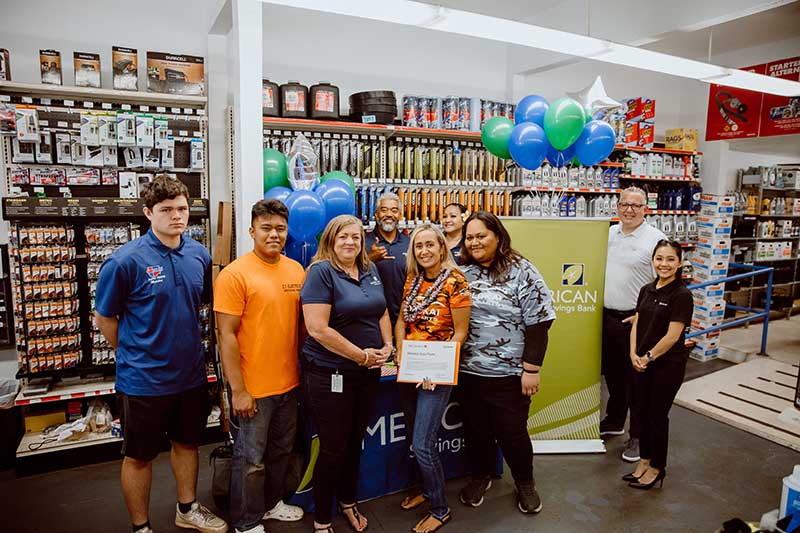 "Small businesses are the backbone of our communities and providing additional financial resources can help ensure they continue to succeed in today's challenging economy," said Dani Aiu, executive vice president, commercial banking. "The Back2Business grant recognizes Molokai Auto Parts' invaluable contributions to the community and will provide more resources for growth, helping to support a stronger, thriving Hawaii."

The Back2Business program is a $50 million commitment to support minority-owned small businesses through grants, coaching and access to technology and networking opportunities. Since 2020, Back2Business has awarded more than 1,600 grants to minority-, women-, veteran-, LGBTQ+- and ethnically diverse-owned businesses in the United States and United Kingdom.
"American Savings Bank and Fiserv share a commitment to giving back with a focus on enhancing the future of communities where we have a presence," said Neil Wilcox, Head of Corporate Social Responsibility at Fiserv. "We are honored to partner with the bank to recognize Asian American and Pacific Islander Heritage Month and award a Back2Business grant to Molokai Auto Parts, which will also receive a technology makeover with our Clover point of sale and business management system specifically designed to meet the needs of small businesses."
Molokai Auto Parts was selected from a competitive pool of applicants due to its exceptional commitment to customer service and crucial role in serving the automotive needs of the Molokai community. Since 2019, the store has been an essential source of support for Molokai, providing quality automotive parts and accessories, while fostering strong relationships with local customers.

"We are honored and excited to receive the Back2Business grant from American Savings Bank and Fiserv," said Lani Ozaki, owner of Molokai Auto Parts. "The pandemic impacted us in significant ways, from supply chain issues that presented challenges with supplying much-needed products to the island to a dangerous drop in revenue, however, that did not deter us from finding ways to continue giving back to our customers and the community. This grant will allow us to enhance our inventory and upgrade technology, ultimately enhancing the customer experience and drive growth."
Molokai Auto Parts grant recipients were joined by ASB and Fiserv representatives at the award ceremony event on May 24 and received a certificate for their accomplishments. As a Back2Business grant award recipient, Molokai Auto Parts will receive access to resources, including complimentary small business coaching and community partnerships.