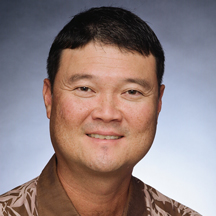 Kevin Kaji
Business Relationship Manager
American Savings Bank
NMLS #647384
Direct: (808) 539-7631
kkaji@asbhawaii.com
Region served: Kauai/Big Island, available by phone and can meet at branches by appointment coinciding with work travel.
Kevin has more than 20 years of experience in the financial services industry and his specialty is helping Small Business owners grow their business. A graduate of the Pacific Coast Banking School, he also holds a BBA in Finance and an MBA, both from the University of Hawaii at Manoa. He is an active member of the Diamond Head Lions Club and University of Hawaii, Men's Basketball Volunteer Fundraising Committee as well as serves as a Microloan Board Member for the University of Hawaii's Pacific Asian Center for Entrepreneurship. Kevin enjoys golfing, traveling and spending time with his two children.