< Back Helpful Articles
Hawaii Is Hiring – A New, One-Stop Job Resource
ASB July 30, 2020 | 5 min read

N/A



The COVID-19 has impacted each and every one of us this year. In fact, nearly 100,000 Hawaii residents are currently looking for work (according to the Chamber of Commerce Hawaii).
In an effort to connect Hawaii residents to job opportunities, training programs and career development opportunities, the Chamber of Commerce Hawaii launched Hawaii is Hiring – a workforce recovery program and website.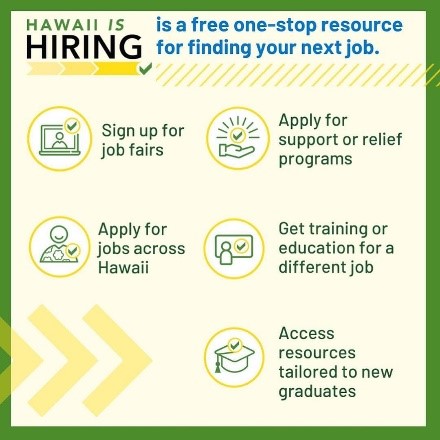 "ASB is proud to support Hawaii Is Hiring and the Chamber of Commerce's efforts to help local residents get back to work," said Rich Wacker, President & CEO of ASB. "Whether you're looking for a new job, new career or opportunities to develop new skills, Hawaii Is Hiring offers something for everyone. We encourage all job seekers to take advantage of this valuable resource."
The site currently has more than 16,000 jobs listed, including positions such as retail salesperson, network and systems administrator and security guard.
In addition, Hawaii Is Hiring is hosting its first Virtual Job Fair on August 12, 8:30 a.m. to 12 p.m. Attendance is free and will provide job seekers with an opportunity to meet with employers in a safe, virtual environment. Click here to register.
For more information on this program, visit Hawaii is Hiring, or the Chamber of Commerce Hawaii. For open positions at ASB, click here.