< Back Helpful Articles
American Savings Bank Opens Kapaa Digital Center
ASB August 09, 2021 | 5 min read

News Releases



American Savings Bank held a blessing ceremony today at its Kapaa Digital Center, located at 4-831 Kuhio Highway, Suite 150. This is the fourth and final digital center ASB is opening this summer in its continued efforts to adapt to customers' banking needs.

At the Kapaa Digital Center, customers can perform all of their cash transactions, including deposits, withdrawals, balance inquiries, and more at the full-service multi-denomination ATMs. They can also talk in-person to an experienced banker for assistance with their unique financial needs and goals, visit the Digital Bar for guided demonstrations of ASB's robust online and mobile banking solutions, or connect virtually to other bankers via an on-site conference room for additional support and services.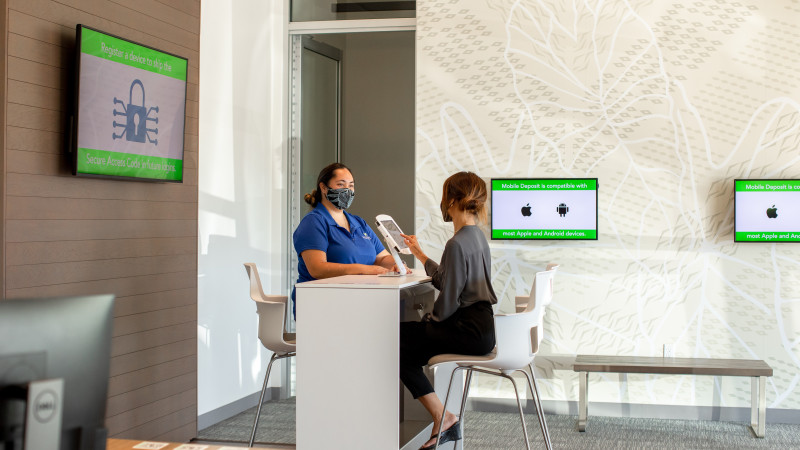 "We are constantly looking for ways to make banking easy for customers and people are loving the convenience of our new digital centers," said Ann Teranishi, ASB President and Chief Executive Officer. "Since a large amount of Kauai's residents live in the Kapaa and Wailua areas, this location allows us to continue serving these terrific communities and introduce a new and simple way to bank."

The Kapaa Digital Center is the biggest of ASB's four digital centers and the only one that is free-standing and not an in-store location.

Those who are new to online and mobile banking can receive one-on-one guided support from on-site bankers. Customers can learn to securely open an account, apply for a mortgage, deposit checks and take a financial checkup, among other services.

Here are a few things customers can do at the Kapaa Digital Center:
Use the full-service ATMs to make a deposit, withdraw cash and more

Visit the Digital Bar for personalized financial solutions

Get assistance from a banker in-person or virtually

Learn how to get started with online and mobile banking
For photos of the Kapaa Digital Center blessing ceremony, click here.
Learn more and see our other digital center locations
About American Savings Bank
With roots going back to 1925, American Savings Bank (ASB) serves Hawaii's businesses and communities with a full range of financial products and services, including business and consumer banking, home loans, insurance and investments. ASB is one of Hawaii's leading financial institutions, with e-banking services and branch locations throughout the state offering evening, weekend and holiday hours. ASB provides Hawaii's consumers and businesses with more extended weekday and weekend hours than other similarly sized local banks, as well as convenient in-store branches. ASB matches its exceptional customer experience with an employee experience that has garnered local and national awards. ASB has been recognized locally as one of the "Best Places to Work" by Hawaii Business magazine for 12 consecutive years and honored nationally as one of the "Best Banks to Work For" by American Banker magazine. Fortune magazine has recognized ASB as one of the 100 Best Workplaces for Women and 50 Best Workplaces for Diversity. For nearly a century, ASB has helped to build strong communities. Through its Seeds of Service program, ASB teammates have contributed more than 63,000 hours of volunteer service and ASB has donated millions of dollars to Hawaii's nonprofits and community organizations. For more information, visit https://www.asbhawaii.com/ or follow ASB on Facebook, Instagram and LinkedIn.