< Back Helpful Articles
Detect and Deflect Identity Theft
ASB July 28, 2021 | 5 min read

N/A



Identity thieves are continuously finding new ways to steal your information, but we can help you remain one step ahead and avoid their tricks. Identity theft happens when an unauthorized individual uses your personal information to steal money from your accounts, open new credit cards, apply for loans, rent a home and other similar unauthorized activities. The negative effects of identity theft can be time-consuming and expensive. They can also damage your credit and leave you with unwanted bills.

Read on for tips on how to recognize identity theft, protect yourself and loved ones, and recover if you've been a victim.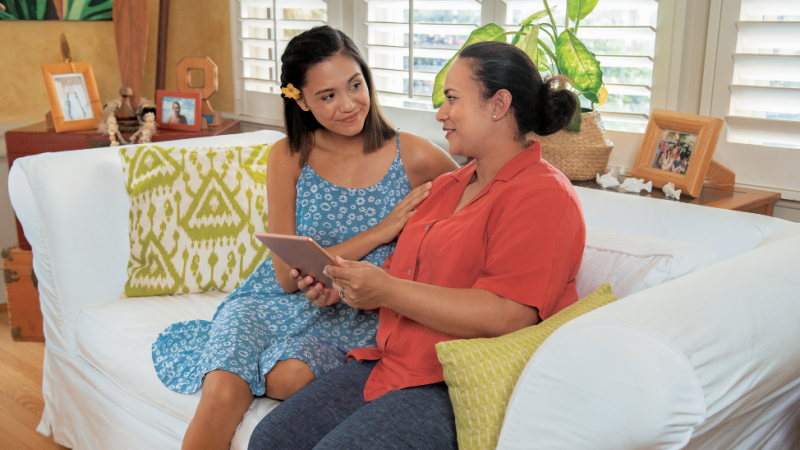 1. UPDATE YOUR CONTACT INFORMATION
Having the most up-to-date contact information on your accounts will ensure you are receiving all communication from American Savings Bank. We will contact you through phone, email and/or physical mail if we suspect any unauthorized or suspicious activity. Your contact information could also serve as a form of authentication in the event that you forget your password.

Always consider the contact information you share on social media. Chances are, if you share your personal information on social media, it will appear in online searches. Below are some ways identity thieves can use your personal information:
Call your bank to change your mailing address

Open new bank accounts and credit cards in your name

Sign up for utility services

Buy automobiles by taking out auto loans in your name
If you are not sure what information we have on file for you, please contact our Customer Banking Center toll-free at (800) 272-2566 or (808) 627-6900.
2. FREQUENTLY CHECK YOUR ACCOUNTS
Banking with us is convenient and can be done anytime, anywhere. We encourage you to utilize our easy online banking features to regularly monitor your accounts. You can opt-in for eStatements, a simple way to monitor all of your transactions. If you have experienced any of the incidents below or feel you may be a victim of identity theft, please immediately contact us:
Identified unauthorized transactions on your account

Been a victim of theft (stolen credit and debit cards, checkbooks, account information, mail)

Misplaced personal information (lost items containing your social security number (SSN), date of birth or online login credentials)
As an added precaution, we encourage identity theft victims to visit https://www.identitytheft.gov to learn more about resources available to you. For example, you may want to consider filing an identity theft report, and freezing your credit by reaching out to the three credit-reporting companies – Equifax, Experian and TransUnion.
3. FIGHT BACK AGAINST IDENTITY THIEVES
In addition to promptly alerting us of possible identity theft, please continue to take the following steps to protect your personal identity:
Change Your Usernames and Passwords
We recommend against recycling previously used usernames or passwords, especially those that have been used on multiple platforms. Sharing your account sign-in information with other parties is not recommended.

Enable Secure Access Code
When possible, enable Secure Access Code for extra security. Users of this mechanism will only be granted access to an account after successfully presenting two or more authentication items proving their identity.

Examine Your Electronic Devices for Malicious Programs
Look through any cell phones, tablets and computers in which you store sensitive information. There may be programs on your device that are being compromised by malicious programs. These programs can potentially capture your usernames, passwords, bank account numbers and credit card numbers. Running a consistent anti-virus program can help you protect against viruses.
4. IDENTITY THEFT RESOURCES
Report to the Federal Trade Commission (FTC): If you are a victim of identity theft, report to the FTC at https://www.identitytheft.gov
Pull a credit score report: Most companies offer a complimentary report once a year. Some companies may even offer unlimited reports! https://www.AnnualCreditReport.com

Consider placing a freeze on your credit: If you suspect that you are a victim of identity fraud, you can prevent someone from opening an account or obtaining credit in your name by alerting the three credit reporting companies.

Equifax: (800) 525-6285

Experian: (888) 397-3742

TransUnion: (800) 680-7289
Share these resources with your family and friends so that they can learn more about identity theft, protecting themselves and how to recover if they've already been a victim.

As a reminder, American Savings Bank will never request verbally or via e-mail/text, your Password, Debit Card PIN, or Secure Access Code. We encourage customers to closely monitor accounts regularly. For best practice, you should report immediately any suspicious activity to our Customer Banking Center at (808) 627-6900 or toll-free (800) 272-2566.

View our security hub to learn more about how you can protect yourself and your finances.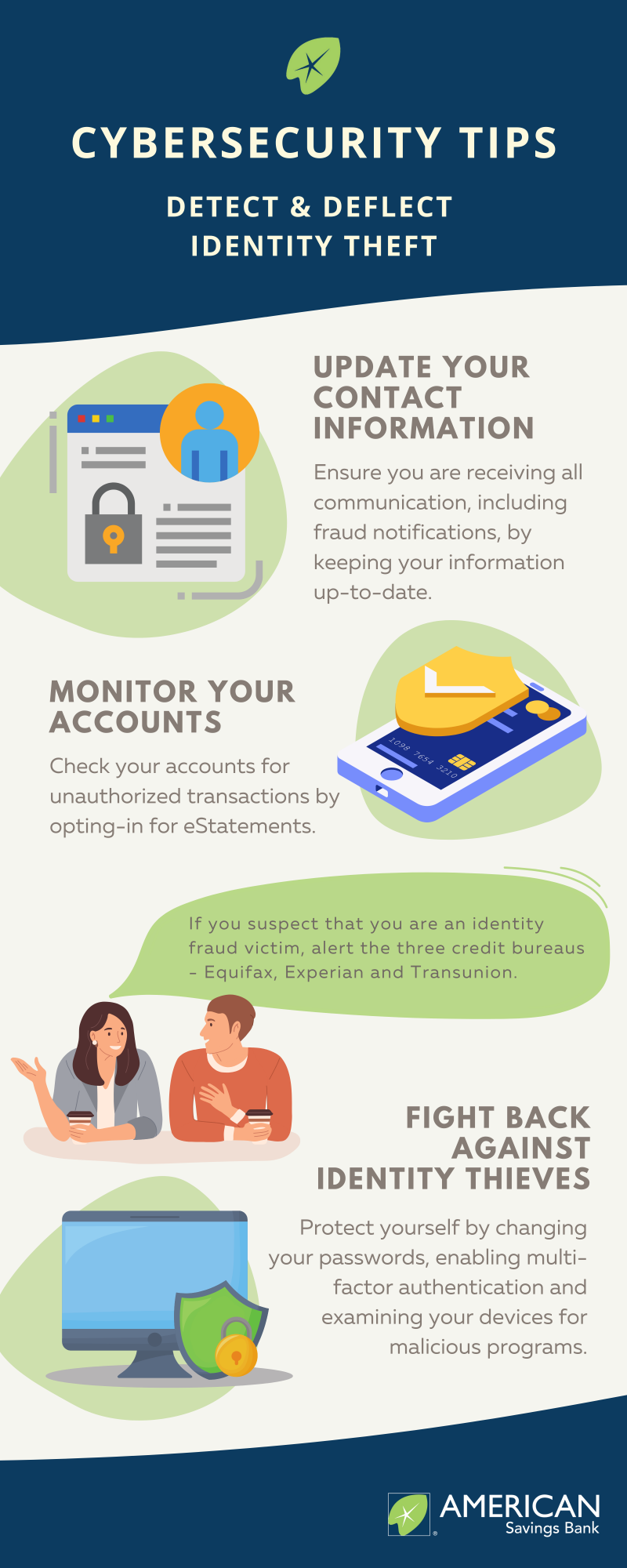 Free ASB Financial Education Playlist:
Building Financial Capability
Healthy financial habits can help you to reach your goals. Topics include budgeting, managing money, taxes and more.

Take Course >