Stay Alert with #BanksNeverAskThat Tips and Tools
Friday, October 01, 2021
With October being National Cybersecurity Awareness Month, we've joined with the American Bankers Association and banks across the country in a nationwide effort to fight phishing. At American Savings Bank, we're committed to making banking easy and safe for our customers. Think of the following four words when trying to spot a phishing scam: Banks Never Ask That. When you know what sounds suspicious, you'll less likely be fooled.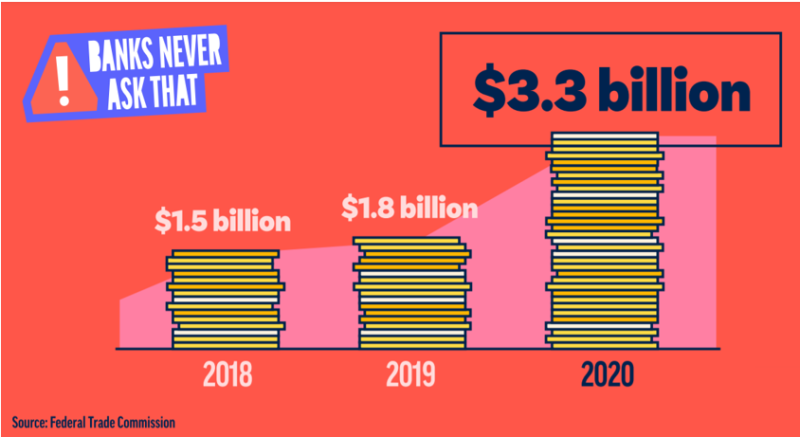 Can you spot a phishing scam? Every day, thousands of people fall victim to fraudulent emails, texts and calls from scammers pretending to be their bank. With more people staying at home during the pandemic and spending more time using online banking, there is greater opportunity for scams, phishing and fraud. The Federal Trade Commission's report on fraud estimates that American consumers lost a staggering $1.8 billion to these phishing schemes and other fraud in 2019 — and the ongoing pandemic has only increased the threat. In 2020, it is estimated that consumers lost over $3.3 billion!

These top 3 phishing scams are full of red flags:
Text Message: If you receive a text message from someone claiming to be American Savings Bank asking you to sign in using a link or offer your personal information, it's a scam. Banks never ask that.

Email: Watch out for emails that ask you to click a suspicious link or provide personal information. The sender may claim to be someone from American Savings Bank, but it's a scam. Banks never ask that.

Phone Call: American Savings Bank would never call you to verify your account number. Banks never ask that. If you're doubting the legitimacy of the call, hang up and call the number on the back of your bank card or on the bank's website.
What's Your Scam Score?
Take five minutes to become a scamspotter pro by taking the #BanksNeverAskThat quiz at www.BanksNeverAskThat.com. Share your score with your friends and family and encourage them to test their scam savviness, too. The more scamspotters out there, the harder it is for phishing criminals to trick their next victim!


Nothing contained in this material is intended to constitute legal, tax, securities or investment advice, nor an opinion that it is appropriate for readers. The information that is contained in this material is general nature. Readers should seek professional advice for their respective situations.
SPOTLIGHTED FREE ASB FINANCIAL EDUCATION COURSE:
Identity Protection
Learn how to protect your identity and the steps to take if your personal information is stolen.

Take Course >