Six Numbers to Measure Success
Back to Business Resource Center >
There are so many financial ratios and indicators that it can be a difficult to keep track of everything. Here are six important numbers to pay attention to when it comes to the success of your business, including ways you can improve them.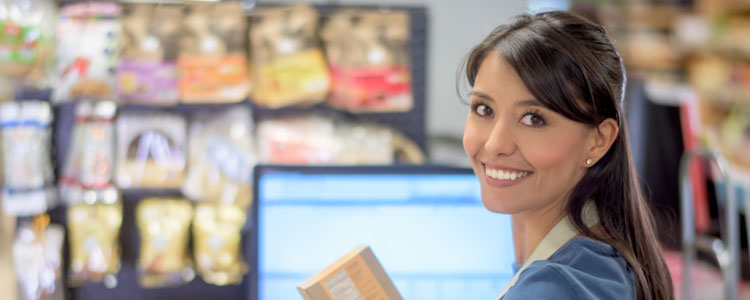 No. 1: Gross margin
Gross margin is the difference between what you pay for a product and what you sell it for. Look to improve your gross margin by considering:
Increasing your prices. If it's small enough, it may not cause too much disruption, but it may result in significant gain.
Reducing cost of goods sold by using lower-cost materials where possible, without affecting quality. Research lower cost providers or ask your current supplier to renegotiate for your business at a lower price.
Reducing waste. Examine any areas where there might be excess waste and devise ways to minimize. Recycle and reuse any materials you can.
No. 2: Average revenue per customer
The average revenue per customer is the total revenue divided by the total number of customers. Here's ways to help increase this number:
Predict customer needs by using your sales data to identify trends such as seasonal fluctuations and items frequently bought together, therefore helping you plan marketing promotions.
Learn to up-sell and cross-sell.
Make it easier for your staff by bundling products and services together.
Target customers who you think have the most potential and develop a specific plan to sell more to each of them.
No. 3: Revenue growth
Steady, predictable revenue growth is the sign of a healthy company. Consider the following to further increase revenue:
Generate more sales by selling more to existing customers. Set up a campaign to keep in touch with your existing customers.
Look at developing new products or services for your existing customers.
Create a marketing plan to identify, locate and sell to new customers.
Look for new distribution channels to expand your customer base, including on your website and third-party ecommerce platforms.
Consider exporting to gain new customers and increase revenue.
No. 4: Revenue per employee
Revenue per employee can be affected by several factors, including average revenue per user, better systems and processes, and automation. Here's ideas to help increase revenue per employee:
Set goals for your employees. Help them put a sales plan in place and measure their success.
Incentivize your employees by providing either individual bonuses for sales achieved or run a combined sales revenue target (especially when you have employees in non-selling roles but they are still crucial to the business succeeding).
Ensure your sales data is transparent so there is some measure for employees to track how they are doing. It doesn't have to be sales information which may be confidential. It could be things they can easily see such as numbers of new customers, number of coffees sold per day, number of products finished and off the work floor.
No. 5: Net profit percentage
The net margin that accrues from all the effort of a business is the ultimate measure of how a company is being operated. Consider the following to increase net profit:
Identify costs that occur each month on a subscription basis or are charged to you every month such as power, internet and phone. Look for ways to reduce these regular fees.
If rent or lease payments comprise a large portion of your overhead, consider relocating all or some of your business to cheaper areas, especially if it's not essential to your business, or customers don't come to visit you directly.
See if there are any costs you can share with other businesses: employees, marketing agencies, floor space, exhibiting or travel costs.
Consider outsourcing any full-time tasks that you only need every now and then. For example, administrative tasks like payroll may not need a full-time (or part-time) person, and it could be cheaper to contract a specialist firm. See what else doesn't require a full-time resource that would be overall cheaper to buy only when you need it.
No. 6: Net customer satisfaction
Track customer satisfaction by asking for opinions, feedback and ratings. This can give your business invaluable information about customer preferences, and what they like and don't like. The higher the satisfaction of your customers, the more likely they are to come back again and again and refer your business to others.
Consider the following to help your customers spread good news about your business:
Find out what people are saying about your competitors and use that information to improve the customer experience in your own business.
Keep track of customer complaints. Document who the customer was, why they were unhappy and what was done to resolve it.
Engage with customers on social media to measure their levels of satisfaction. You can talk to them directly, create customer surveys, and incentivize them to visit your website.
Use email to send out customer satisfaction surveys. Incentivize them to participate in the survey by offering a discount or small gift.
Summary
Most businesses do not need a long list of ratios or numbers to track with spreadsheets, accounting software, applications, and dashboards sending unlimited streams of data to you each day. Instead establish a few numbers that mean something to your business, then set up a system so you can monitor what is happening to each of these every month.
If you can improve each one in small increments, you may see substantial improvements in profitability.
Next Steps
Contact one of our Business Relationship Managers to see how we can help your Hawaii business grow.
Set up monthly reporting so you can see if the numbers are improving each month. If not, take steps before the number further decrease.
Talk to your accountant or financial adviser if there are other numbers you should measure and track.
Get Started
Business Products
Additional Resources
BUSINESS LOAN CALCULATOR