< Back Helpful Articles
Give Back with ASB This Holiday Season
ASB December 06, 2019 | 5 min read

N/A



'Tis the season for giving – and what better way to give than help those in need? This holiday season, American Savings Bank is offering a few different ways to help you give back.
Good Impressions
Looking for a super quick and easy way to give back? ASB has partnered with Good Impressions to donate funds to several different local nonprofits: Child & Family Service, Kapiolani Health Foundation, Kupu and Partners in Development Foundation.
How does it work? Simply visit HawaiiNewsNow.com and look for ASB's ads. Look for a yellow button in the top left corner that says "sponsored donation." Once you hover over this button, a good impressions message will appear and funds will be donated to one of the nonprofits.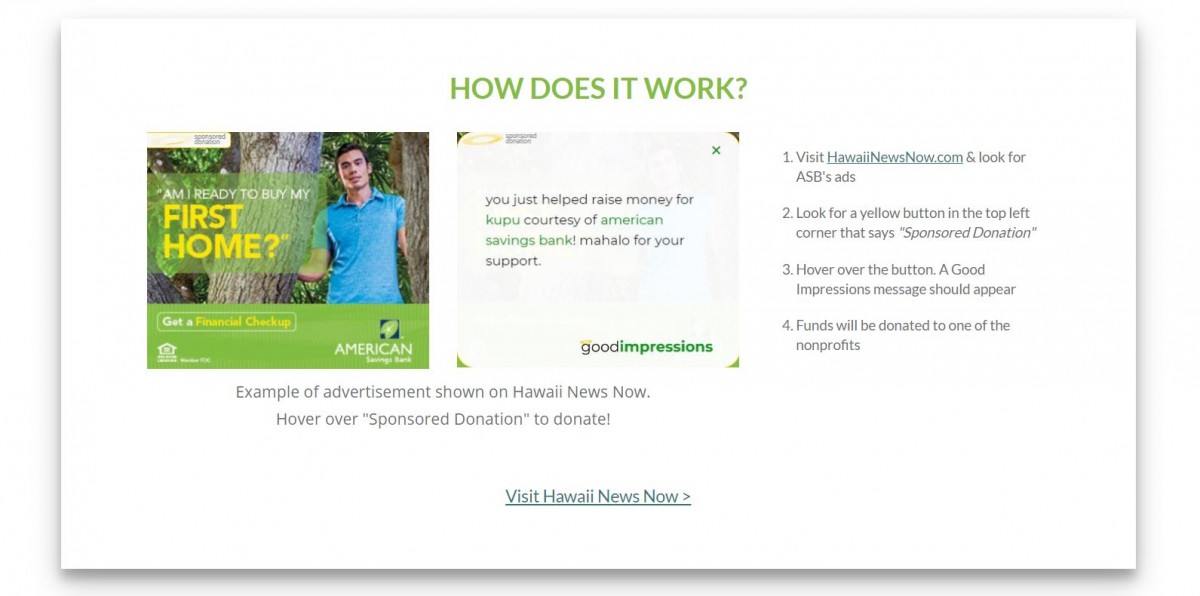 This campaign runs for a limited time only – now through January 31, 2020, so visit HawaiiNewsNow.com today to help raise money! ASB has generously committed up to $1,000 to each nonprofit through this campaign. For more information about this campaign, click here.
Bill Pay + Operation Homefront
ASB customers can support military families this holiday season by signing up for Bill Pay in ASB Online Banking. For every customer who signs up for Bill Pay, now through December 31, 2019, a dollar will be donated to Operation Home Front.
Operation Home Front is a national 501(c)(3) nonprofit whose mission is to build strong, stable, and secure military families so they can thrive — not simply struggle to get by — in the communities they have worked so hard to protect.
Bill Pay is a simple and intuitive way to manage your money. With Bill Pay, you can schedule single or recurring payments from your phone, tablet or computer and get rid of the hassle of checks and stamps. Choose the date of the payment and amount, and ASB will take care of the rest. Click here to learn more about Bill Pay.