< Back Helpful Articles
Moving to Hawaii? 5 Tips for Purchasing a Property in Hawaii
ASB August 17, 2021 | 5 min read

N/A



Hawaii draws new residents from across the country and around the world with its warm beaches, rich and historic culture, and sun-soaked weather. However, buying a home in Hawaii has unique challenges.. We'll save you some researching time and tell you everything you'll need to know before making the life-changing move.

American Savings Bank is a dedicated local resource for banking and home loans in Hawaii. Our experienced team has helped numerous people move from the mainland to the islands. Helping our customers buy their first home in Hawaii is as exciting for us as it is for them. Consider these five tips:
TIP #1: BE PREPARED FOR HIGHER PRICES
Hawaii is a collection of islands far removed from the mainland with a limited amount of space. Low inventory of construction materials, a hot housing market, and a desirable climate make home prices in Hawaii much higher than most of the country. Be prepared to see home prices significantly higher than what you may be used to. Depending on where you plan to move, you may also be surprised by the size of the homes. Settling for a smaller home at a higher price if you want to live in a popular neighborhood or busy city is not uncommon. Living on an island also means that home improvement projects will cost more. Even if you can do the work yourself, construction materials might be more expensive as they're most likely imported from the mainland. Keep this in mind when looking at potential homes — a fixer-upper in Hawaii may cost more to improve than one on the mainland.
TIP #2: WORK WITH A REAL ESTATE AGENT THAT KNOWS THE HAWAII MARKET
One of the most important things to remember when moving to Hawaii is how important it is to work with professionals that know the market. The Hawaii real estate market is unlike any other. Your real estate agent is an important choice when buying a home. In a hot market like Hawaii, you'll want to select someone ready to be your advocate when it comes to negotiating with sellers. Do your research when picking a real estate agent — read reviews, ask friends or family living in Hawaii for recommendations, and speak with several agents before committing to one.
TIP #3: GET PRE-QUALIFIED FOR A MORTGAGE
It's a seller's market in Hawaii, which means that houses sell fast and each home may already have a few interested buyers. You want to be prepared to put in an offer as soon as you find the right house, so make sure your finances are ready to go before you start looking at houses. Like your real estate agent, it's best to work with a Hawaii bank or mortgage lender to help you find the right home loan. As a local lender, ASB has loans to fit almost any buyer — from conventional loans to government-backed mortgages like Veterans Administration (VA) loans or United States Department of Agriculture (USDA) rural development loans. Our mortgage loan officers have experience helping buyers get financing for their home in Hawaii. They can help you get pre-qualified for a mortgage and walk you through the home buying process in Hawaii.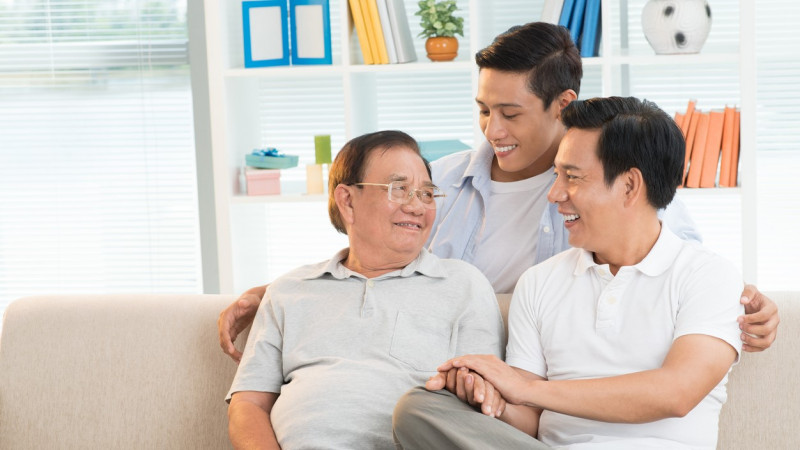 TIP #4: UNDERSTAND FEE SIMPLE VS LEASEHOLD PROPERTIES
Properties in Hawaii are Fee Simple or Leasehold. It's a good idea to do your research on both types of property before purchasing.
Fee Simple is the most complete form of ownership and the most common throughout the United States and Hawaii. Fee Simple means you own the building and the land underneath.

Leasehold means that you own the building but someone else owns the land underneath. Leasehold properties aren't overly common.
TIP #5: CONSIDER OTHER FACTORS
The price of a home isn't the only thing to consider when moving to Hawaii. You should also think about where you want to live and the type of home you want. Hawaii has many different types of neighborhoods — from quiet towns to lively cities. You also want to consider what type of amenities you want. Do you want to be near other families and top-tier schools, an active nightlife scene, or in a small community with a neighborhood watch group? Depending on the neighborhood or town you choose, you can also consider different types of properties. A condo, for example, may be a good option if you're young and single during your initial move to Hawaii. On the other hand, a family with a couple of kids may want more space for their children to play and grow.
LEARN MORE ABOUT BUYING A HOME IN HAWAII
Ready to make the move to Hawaii? As a local Hawaii bank and mortgage lender, we understand the unique factors that go into buying a home in Hawaii. Make the transition smoother with our experienced home loan officers.


Nothing contained in this material is intended to constitute legal, tax, securities or investment advice, nor an opinion that it is appropriate for readers. The information that is contained in this material is general nature. Readers should seek professional advice for their respective situations.
FREE ASB FINANCIAL EDUCATION PLAYLIST:
OWNING A HOME
Explore the benefits and costs of buying and owning a home.

Take Course >