< Back Helpful Articles
Why You Should Set Up Online Bill Pay
ASB December 16, 2019 | 5 min read

N/A



Do you hate trying to remember to pay your bills each month? Between different due dates, payment amounts, and addresses, paying bills can be a hassle. Save yourself time and organize your payments with Online Bill Pay from American Savings Bank.
Our online bill payment feature gives you the ability to set up one-time or recurring payments from your ASB accounts. Simply schedule your payment date and amount, and we'll pay your bills right from your account.
Read on to learn more about the bill pay feature and how to enroll.
HOW TO USE ONLINE BILL PAY
You'll need to set up Online Banking to use Bill Pay. The set-up process is quick and easy. Online Banking gives you access to more than just Bill Pay. Keep an eye on your accounts, make transfers, and view transactions from almost anywhere. You can also make mobile check deposits on the ASB Hawaii Mobile App for iPhone and Android devices.
If you're already using Online Banking, you're ready to get started paying bills online. To pay your bills online, simply follow these steps: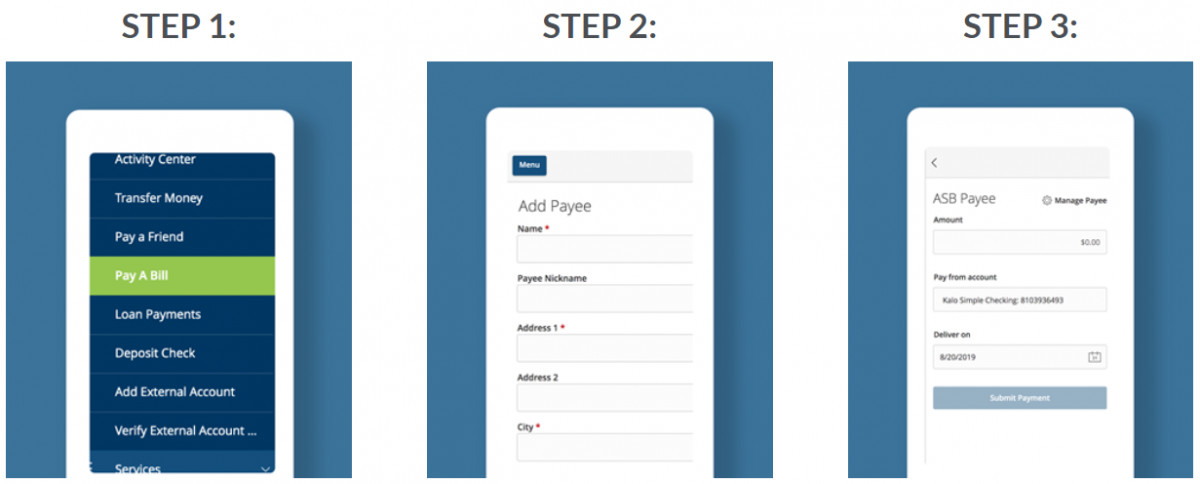 Log in and go to Transactions > "Pay a Bill" (If this is your first time using Bill Pay, select an account to use for sending payments and press accept to agree with the terms and conditions)
Select "Add Payee" and fill out the information of the company or person you want to pay, and click "Save"
Enter the payment and "Deliver On" date (when you'd like the payment to be made), then click review payment and submit payment buttons
We'll send the money to the requested payee on the date you select. Payments are made one of two ways: through electronic payment or via paper check. We print and mail checks on your behalf if no electronic payment method is available.
Have a recurring bill such as rent or car insurance? You can set up a recurring payment by selecting AutoPay for the payee of your choice. Once you set up AutoPay, we'll debit your account on each delivery date.
BENEFITS OF USING ONLINE BILL PAY
Bill Pay is a great way to manage your payments and keep track of recurring expenses. Once you set up online banking access, you can start paying your bills electronically through the ASB Bill Pay system. Some benefits of using Online Banking Bill Pay include:
Stay Organized
Bill Pay can help you stay on top of your regular bills. Keeping track of rent, your cell phone bill, and utility bills are hard. If you're not careful, you can easily miss a payment. Online Bill Pay makes it easy to stay organized. Manage your finances all in one place so that you always know when a payment is coming up. This helps to reduce your chances of missing a payment or making a late payment. By paying your bills on time each month, you can maintain a strong credit score.
Additionally, seeing all of your bills in one place can help you better manage your finances. You'll be able to see where your money goes each month for regular bills. Use this information to see which bills cost you the most. You might be able to trim down your expenses by finding ways to reduce your monthly spending.
Cut Out Paper Checks
Have you ever needed to pay a bill only to realize you're out of checks? You'll need to wait a few days for new checks to come in, which means your payment could be late. Online Bill Pay cuts out the hassle of paper checks. You won't need to write out the check, pay for postage, and take it to the nearest mailbox to send your payment. Bill Pay lets you pay bills even if the payee doesn't accept electronic payments. We'll take care of printing a paper check and mailing it for you. That way, you can focus on other things rather than a trip to the nearest post office or mailbox. Bill Pay even lets you pick a date to send your payment – up to four business days in advance for paper checks and two business days in advance for electronic payments.
Electronic payments also help the environment and our Hawaii home. By reducing paper checks, you help eliminate paper waste as well as the fuel used to transport your check. Further reduce paper waste by choosing to receive your bills electronically. As a company dedicated to environmental responsibility, ASB Online Banking lets you set up ebills so that your monthly bills are sent directly to your inbox. You'll be able to easily sort and file your bills right on your computer, phone, or tablet.
Stay in Control of Your Payments
ASB Online Banking Bill Pay lets you stay in control of your payments all in one place. You decide when to make a payment and how much to send. You won't need to login to several different websites to make electronic payments for different bills. Likewise, you don't need to write out a bunch of checks each month for bills that can't be paid electronically.
Secure Payments
Unlike paper checks, Bill Pay is completely secure. Your payments are made electronically using a secure server and payment system. At ASB, we take cybersecurity very seriously. We have processes in place that help keep your bank accounts secure. When you sign in to your Online Banking account through a browser for the first time, you'll receive a one-time access code. This code expires after a short time to help keep your accounts secure. If you use our mobile app, you can set up TouchID or FaceID on Apple devices, or a four-digit passcode for Android devices.
Set up Online Banking Bill Pay to schedule and pay your bills electronically from one place today.
BILL PAY + OPERATION HOMEFRONT
Signing up for Online Banking Bill Pay comes with an additional bonus that will support military families during the holiday season. For every customer who signs up for Bill Pay, now through December 31, 2019, a dollar will be donated to Operation Home Front.
Operation Home Front is a national 501(c)(3) nonprofit whose mission is to build strong, stable, and secure military families so they can thrive — not simply struggle to get by — in the communities they have worked so hard to protect.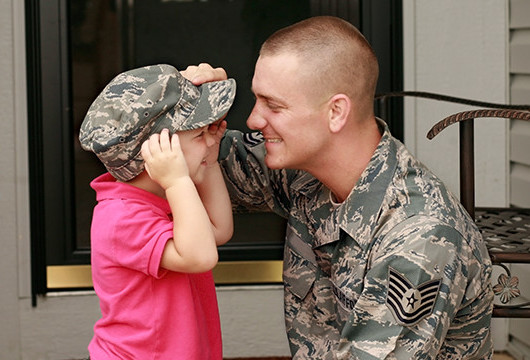 Ready to get started? Click here to learn more about Bill Pay.