COVID-19 (Coronavirus) Updates
Our team at American Savings Bank is here for you throughout the COVID-19 pandemic. The safety, health and well-being of customers and teammates are a top priority.

To ensure we continue to serve our customers and community in the best way possible, we continue to provide updates on our banking services and coronavirus-related information through this website, email and social media. Mahalo!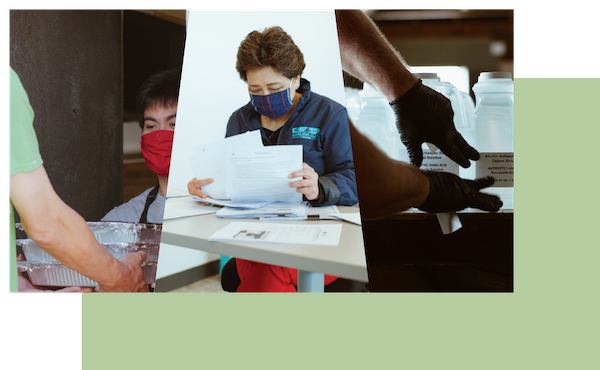 Our Commitment
We are committed to being transparent and sharing information, especially during the COVID-19 pandemic. Learn how we're continuing to enforce health and safety measures to keep our customers, teammates and community safe.
Since January 2020, we have implemented stringent protocols to keep our teammates and customers safe. These include:
Daily enhanced cleaning, which includes a professional service that provides deep cleaning and detailed disinfectant solution wipe downs of all workstations and common areas.
Daily health checks of all teammates with contactless temperature checks. We require all teammates to stay home until they are cleared to return to work if they feel unwell for any reason.
Installed plexi-glass barriers between customers and teammates, fans to circulate air and social distancing stickers in our branches.
Upon being informed that a teammate tests positive for COVID-19, we currently follow the below steps:
Gather Information: Work with the teammate to gather information including last date worked, areas worked and individuals they were in close contact with. The teammate will also be instructed to quarantine and follow their doctor's guidance on when to return to work.
Clean and Sanitize: In addition to the normal enhanced cleaning that every ASB facility receives, we will use a professional cleaning company to clean and sanitize the teammate's work areas and surrounding areas. In some cases, this may involve temporarily closing a branch. The area will not reopen until it is deemed safe.
Notify Close Contacts: Notify all individuals the teammate was in close contact with and advise them to self-quarantine and closely monitor their health. Customers who were in close contact are also notified.
Reassign Teammates: Teammates who were in close contact with the teammate who tested positive will be asked to stay home, self-quarantine and closely monitor their health. If a branch is affected, teammates from other branches will be temporarily assigned to the location when it reopens.
Staying Safe & Secure
Access account information, transfer funds, deposit checks and more all from the comfort of your home for free.
Conveniently access your account and complete transactions without the needing to physical come into the branch.
If your American Savings Bank Visa card has the Contactless indicator on it, you can use it to make purchases easily.