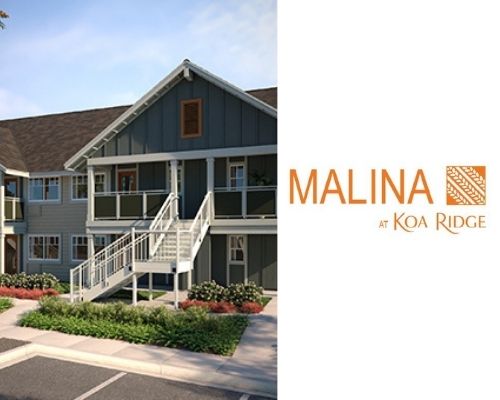 Malina at Koa Ridge
Getting pre-qualified for a home loan is the first step in securing your purchase agreement for an affordable townhome at Malina at Koa Ridge, located at 94-1144 Koa Uka Boulevard in Waipio. Please contact our Oahu lending team for financing solutions and for your free pre-qualification analysis.
Special Offer:
2.75% interest rate / 2.90% APR with 1.50 points1
5% down payment for first time homebuyers and 20% down payment for repeat buyers
Loan amount up to $970,800
For owner-occupants with a 740+ credit score
Other rate and point combinations available
APPLY NOW
Malina at Koa Ridge Home Loans Team
929 Queen Street, 2nd Floor
Honolulu, HI 96814
Phone: (808) 593-1226
Fax: (808) 593-4840
1600 Kapiolani Boulevard, 2nd Floor
Honolulu, HI 96814
Phone: (808) 593-1226
Fax: (808) 539-7284
98-200 Kamehameha Highway
Aiea, HI 96701
Phone: (808) 593-1226
Fax: (808) 627-4021
The special pricing offer (offer) is applicable for home purchase transactions for an affordable townhome at Malina at Koa Ridge financed through American Savings Bank (ASB) residential mortgage programs that close by 04/29/2022. Offer is not applicable for brokered out loans or Veterans Affairs Loans. Offer is subject to automatic payments from a new or existing ASB personal checking account. The ASB checking account number with the intent to establish automatic payments for the mortgage must be provided prior to final approval of the loan by ASB. The establishment of automatic payments must be signed at mortgage closing. If the borrower opts out of automatic payments or the ASB personal checking account is not established at loan closing, the offer will not apply, and ASB will be required to re-disclose the non-promotional rate and charges which may result in delayed closing. See the Personal Deposit Account Terms and Conditions for other terms, conditions and fees for Kalo Checking accounts. This offer cannot be combined with any other mortgage promotional discounts, long-term rate lock specials, or new project financing rates unless otherwise specified, and is limited to one promotion per loan. The financed residential property must be owner-occupied and have a minimum credit score of 740. Based on a purchase price of $495,000 and 5% down payment, the loan amount would be $470,250 for a 30-year fixed rate mortgage at 2.75% / 2.91% Annual Percentage Rate (APR) and 1.50 points, the monthly principal and interest payment would be $1,919.75 for 360 months. Long-term lock available at application with float down feature. Certain restrictions apply and applicable upfront lock fee may be refunded. This offer is subject to change or discontinuation without notice. Applicant(s) is/are subject to loan qualification, underwriting guidelines, and credit policy of ASB. Certain terms and restrictions apply. For more information, please contact an ASB Residential Loan Officer.