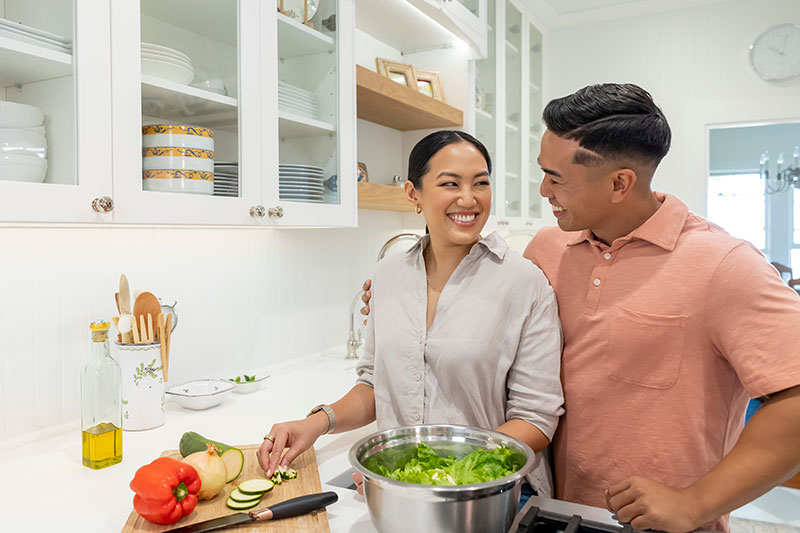 A home loan for first time home buyers that includes a wider Area Median Income (AMI) range for buyers who earn between 80% - 140% to help them achieve their dream of homeownership in Hawaii.
This is HOME Features
Down payment as low as 3%
Discounted interest rate that'll save you hundreds of dollars each month
Lower mortgage insurance requirement
Reduced closing costs with no added fees or pricing adjustments
Eligible borrowers' annual qualifying income can be up to $169,950 for a family of four
Learn About Different First Time Home Buyer Loans and Rate Types
Conforming Loan
If you have established credit history and the property meets standard guidelines, you could qualify for a Conforming Loan with competitive market rates. 30-Year and 15-Year fixed rate mortgages available. Learn More >
Non-Conforming Loan
Non-Conforming (or Portfolio) loans offer some flexibility, if the property or your borrowing situation does not meet conforming loan guidelines. Available for loan amounts up to $2 million for purchasing or refinancing a home. Learn More >
Fixed Rate Loan
Fixed Rate mortgages have a set interest rate so that the monthly principal and interest payment stays the same for the life of the loan. We have 15 and 30 year Fixed Rate loans that'll help to give you ease of mind when buying your home in Hawaii.
Adjustable Rate Mortgage (ARM) Loan
An Adjustable Rate Mortgage (ARM) Loan features a fixed interest rate for an introductory period of time (either 7 or 10 years). After the introductory period, the interest rate and payments may adjust higher or lower based on market interest rates.
What Type of Home Loan Programs are There?
Common Questions:
To be considered a first time home buyer in Hawaii you must (1) be purchasing the security property; (2) reside in the security property as a principal residence; and (3) had no ownership interest (sole or joint) in a residential property during the three-year period preceding the date of the purchase of the security property.

In addition, an individual who is a displaced homemaker or single parent also will be considered a first time home buyer if he or she had no ownership interest in a principal residence (other than a joint ownership interest with a spouse) during the preceding three year time period. (Source: Fannie Mae).

If you meet this definition, we have a variety of first-time home buyer programs that can assist you towards your dream of Hawaii homeownership:
This is HOME: A mortgage program featuring a discounted interest rate, 3% down payment requirement and more.
First Time Home Buyer Promotion: Receive one-half (0.50) point off your loan origination points which can translate into thousands of dollars in savings.
Loan programs and products are subject to loan qualification, credit policy and underwriting standards for the respective program or product. Certain terms, conditions and restrictions may apply. Programs/products subject to change or discontinuation without notice.
Fannie Mae® is a registered trademark of the Federal National Mortgage Association. Freddie Mac® is a registered trademark of the Federal Home Loan Mortgage Corporation.