< Back Helpful Articles
First Look - American Savings Bank HQ nearing completion: Slideshow
ASB September 11, 2018 | 5 min read

N/A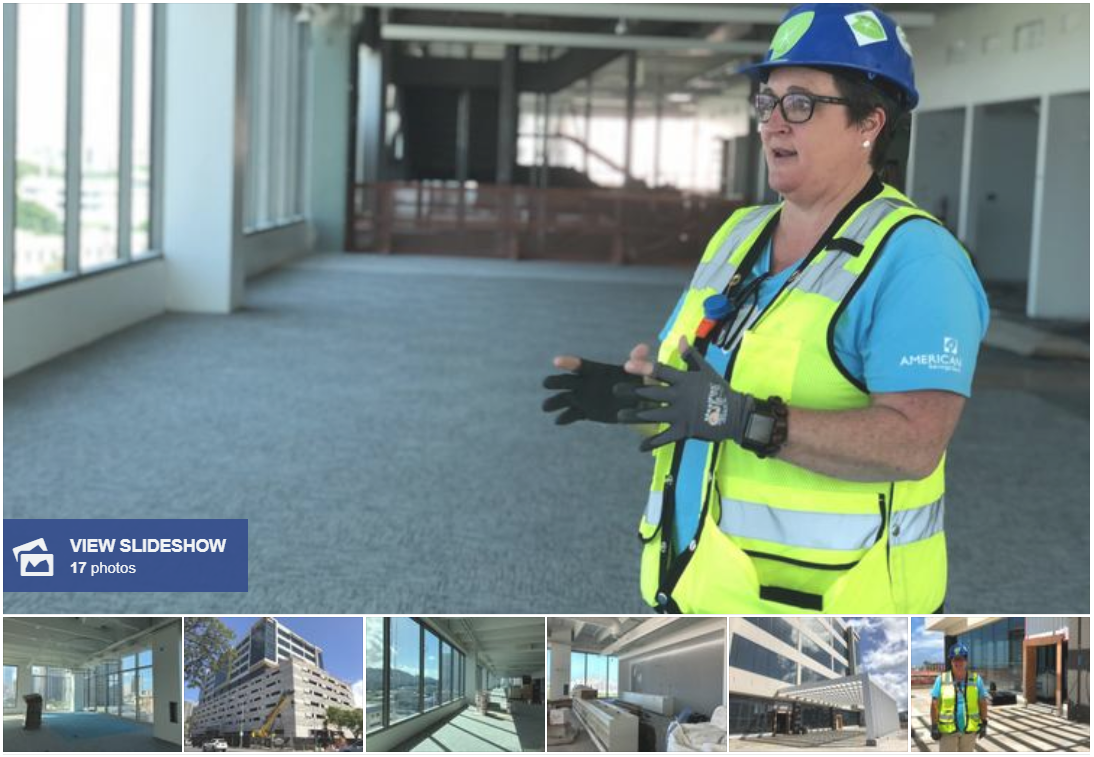 Our brand new ASB Campus is well on its way to completion! Check out this feature from Pacific Business News >
American Savings Bank is planning to begin moving into its new headquarters on the edge of Downtown Honolulu in December, and Beth Whitehead intends to be one of the first occupants.
"Rich [Wacker, the bank's president and CEO] and I will be employees one and two in this building," Whitehead told Pacific Business News during an exclusive hard-hat tour of the site last week. "I don't think I can explain how excited we are to have this."
Whitehead, the bank's executive vice president and chief administrative officer, has been in charge of overseeing the $100 million project and has been on site at least three times a week since the project broke ground in February 2017 with general contractor Nordic PCL Construction. PBN was not permitted to take photos during the hard-hat tour on Friday; photos were provided by American Savings Bank.
The bank will vacate more than 100,000 square feet of office space in Honolulu, moving about 660 people from offices in buildings such as the American Savings Bank Tower in Bishop Square, as well as 99 N. King St. in Chinatown, 915 Fort Street Mall, 677 Ala Moana Blvd. and 1215 Hunakai St. near Kahala Mall. The majority will move in January, and Whitehead expects the move to be complete by the end of the first quarter.
The building was outfitted with View Dynamic Glass, which automatically reduces glare during periods of high sunlight, making it more comfortable for employees — American Savings Bank calls them teammates — and saves on energy costs, Whitehead said.
The bank has already installed the glass in two branches — Kapolei and Kahului — and has already seen energy savings and favorable comments from customers and employees.
The glass will be essential, since the open floor plan places most of the bank's employees near the windows on all four sides of the building.
There will be just 10 private offices, Whitehead said. Small conference rooms, "coaching" rooms for private conversations and even smaller phone rooms are placed around the building's central core, and with glass walls and doors facing the open office. The four corners of the building are set aside as "collaboration corners" where employees may meet or work on their own — in a nod to Hawaii, as well as the bank's logo, the makai corners are fitted with aqua-blue rugs, while the carpet in the mauka corners is a lime green.
A central stairwell will have an adjacent "coffee hui" on each floor where employees may also have informal meetings, as well as coffee.
The 166,000-square-foot 11-story building will have 27 customer parking stalls, a bank branch, meeting rooms, a 1,200-square-foot multipurpose room and a fitness center for employees on the ground floor.
There is no commercial space, outside of the bank branch, on the ground floor, Whitehead said.
"We wanted a building that is totally American Savings Bank and is secure for both our team and our customers," she said.
The five floors above the ground floor are devoted to employee parking.
The bank's headquarters will take up floors seven through 10 — the 11th floor is being roughed out for plumbing and electrical but will be left unfinished for future growth, Whitehead said. The seventh floor is reserved for training and meeting spaces — including a 3,000-square-foot space with an ocean view and a catering kitchen — as well as the 4,500-square-foot lunchroom, which will have multiple sinks, refrigerators and microwave ovens for employees to use, two "relaxation rooms" and an arcade, or game room, set in the back, where employees will be able to kick back during their lunch hour or after work.
The floor also has two large lanais on the Diamond Head side, outside the lunchroom, and the Ewa side, and a training branch near the central staircase where new employees from all over the state will be able to interact with employees from the headquarters as part of their training.